Are you passionate about outstanding sound quality in your vehicle? If yes, you have arrived at the right place for a detailed review of a popular compact digital media receiver module- The Pioneer AVH-210ex.
Considering Pioneer as one of the market leaders in-car music and entertainment systems, the system has a vibrant 6.2-inch WVGA display with great picture quality as compared to other media receiver systems which have lag while operating their touch screen.
The touchscreen display of the system even features accuracy, a wide range of colors with better fidelity and resolution.
It supports top-notch technology in demand today i.e., smooth connectivity with Android Auto and Apple Carplay.
It has a double din system configuration and the front part of the digital media receiver is detachable as far as safety is concerned on the priority from theft.
Review At A Glance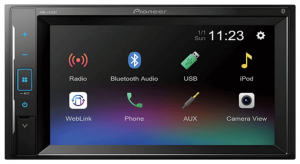 Product Name: Pioneer AVH-210ex
Product Description: Pioneer AVH-210EX is one of the top options for a stereo receiver that comes along with ample features to enhance your audio and music listening experience while driving.
Summary
Pioneer AVH-210EX is a double din stereo receiver. It comes with a touchscreen display and it is compatible with both Android and Apple smartphones. Some of its basic features help you with handsfree calling and seamless audio streaming.
Technical Specifications:
13-Band Customizable Graphics Equalizer
Easy EQ (EEQ) Preset Equalizer
RCA Pre-outs (3 Pair 2V each)
D/A Converter (24 Bit)
Crossover Network (HPF/LPF)
Loudness Enablement
Manual Time Alignment (CD-MC20 required)
Subwoofer Control Enablement
Listening Position Selector Enablement
Features

Ease of Use

Built Quality

Sound Experience

Price
Moving ahead let's take the Pioneer AVH-210ex review to a next level.
Pioneer AVH-210ex Review
Sound Quality – Wireless Audio Streaming
The 210ex is equipped with a satellite radio system, DVD player, and USB playback options from an android device and iPhone thus making audio playback be heard as one of the most important enhancements in this new head unit.
To hear a fabulous audio playback in AVH-210ex you will get 13 band digital and graphic equalizers through an advanced audio distribution profile. You can even change equalizer settings from the remote control.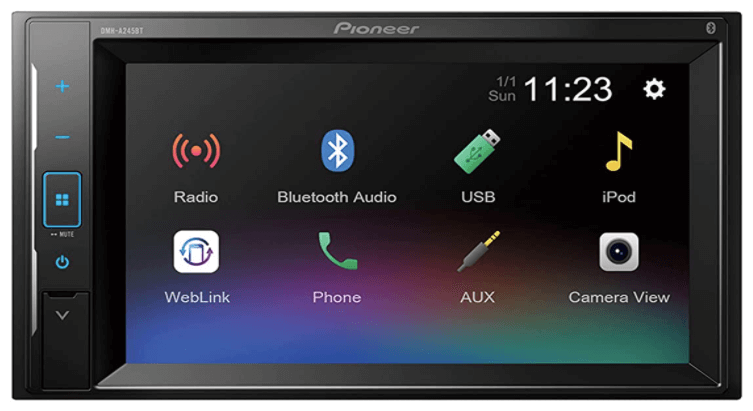 The entertainment system imparts a direct digital signal transfer process from the sound input devices to get a crisp, clear, and better sound quality.
The AVH-210ex even introduces you to Bluetooth hands-free (1.6) calling for all your phone calls, which furthermore enhances the call quality (sound) as the technology here is multiplying the frequency bandwidth. This is done by wideband speech capability.
With AVH-210ex your stock speakers will be more than enough as the sound is much better.
Video Playback
The AVH-210ex is equipped with the latest technology of the CD and DVD player video playback which you can view on a vibrant 6.2-inch display.
The media receiver supports all the video and audio file formats if you are still happy with the traditional CD/DVD collection.
Moreover, using the USB port you can even play your favorite movies during a long family trip with the AVH-210ex.
Your long journeys won't be boring now.
Enhanced Features
With AVH-210ex you will get iDataLink Maestro smooth connectivity. As in today's era, all automotive vehicles have the steering wheel controls to operate in the entertainment system in heavy traffic conditions without viewing the actual system.
With AVH-210ex you can connect or link the OEM steering control with the digital media receiver with mostly all the operative functions like answering the calls, wireless Bluetooth switch mode, increase decrease media volumes.
Here you will even get Sirius XM vehicle connectivity for better satellite radio abilities.
The AVH-210ex comes with built-in high-definition pioneer radio tuner components to enhance live audio capturing from the radio data systems.
The back pain of the AVH-210ex includes two camera input ports one for the rear-view/backup camera and another one for the front camera.
This dual-camera technology will help you with a wide range of viewing angles from inside the vehicle thus enhancing visibility while parking and towing the vehicle.
The main deck of the AVH-210ex consists of a 6.2-inch crystal clear, resistive, and lag-free touchscreen display for smoother user experience and viewing angles. The video output is flawless while rendering combined with the sound system.
The screen display supports the latest WVGA technology for a good color range look with a single touch-responsive tap on the screen.
The system is equipped with Android Auto and Apple Carplay for making your life more-simpler in terms of wireless connectivity.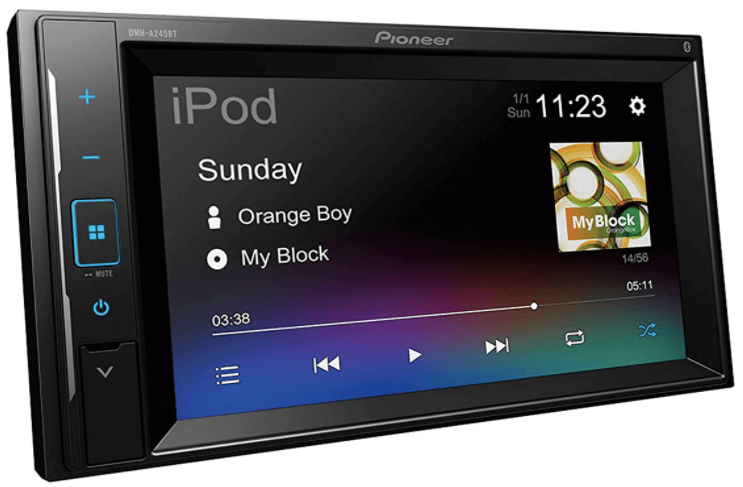 Furthermore, here the Android Auto and the Apple Carplay are not only sufficient the AVH-210ex allows you to connect your Android and iOS mobile devices via USB ports
The wire and cables Harness are provided in the box and Bluetooth 4.0 technology with built-in WIFI connectivity. (You would require a Bluetooth-enabled phone for the same). Post pairing for the first time the auto connection function pairs with the same device automatically.
When you talk about the look and feel i.e., the ambient lighting in your automotive vehicle, the AVH-210ex can choose from 112 different colors options to match your vehicle's interior lighting. (Ambient lighting)
Besides this, you will also get a set of wallpapers or a background to choose from, for a better appearance.
Detailed Specifications
Display/Screen Size – 6.2-inch resistive touchscreen (Brightness control, LED backlight, Dimmer Settings as On and OFF, Screen display On and Off, Screen/Display background customizations).
The touchscreen Display or the screen Resolution is (WVGA 800 X 480).
Built-In Bluetooth 4.0 (Hands-Free HFP 1.6, Audio Video Controls AVRCP 1.5, Advances Audio Distribution Profile, Secure Simple Pairing SSP, Dual Phone Connectivity). Making phone calls simpler.
The double din even has an Enhanced Radio Tuner (Built-In 18 FM, 6 AM Presets, Best Station Memory, Supertuner IIID, RDS).
With the enhanced Bluetooth features and built-in Bluetooth, the system is equipped with Android Auto and Apple Carplay.
CD/CR-R/RW/DVD/DVD-R/DVD Video Playback combability through CD/DVD unit.
USB Audio/Video Playback combability.
Audio/Video file formats: WMA, WMV, MPEG-1, MPEG-4, MP3, ACC, MPEG-2, AVI, DivX, JPG.
Back up camera ready for parking assistance and front camera for better visibility.
The system has a Built-in Amplifier with (MOSFET 50W x 4 channels). This connects to the preamp outputs for more power.
The audio control is enhanced with 13-Band Customizable Graphics Equalizer.
Within the audio settings, the system features the EEQ i.e. Easy EQ as a Preset Equalizer.
RCA Pre-outs (3 Pairs 2V each).
D/A Converter (24 Bit).
Crossover Network (HPF/LPF).
Loudness Enablement.
Manual Time Alignment (CD-MC20 required).
Subwoofer Control Enablement.
Listening Position Selector Enablement.
Wire Harness Extensibility (USB Single and Rear 1.5 AMP, AUX input Single and Rear 3.5mm, Enablement of Wired Remote Input, Composite Video Output, USB Direct Control for iPhone and Android).
FM Audio tuner: Frequency range (87.9 MHz to 107.9 MHz) with usable sensitivity of 12 dB.
AM Audio Tuner: Frequency range (530 kHz to 1710 kHz) with usable sensitivity of 28 uV. The Signal-to-noise ratio is 62 dB.
Other basic features and what you will be happy to hear is that the AVH-210ex is even armed with:
The head unit of the device has detachable face security i.e., you can remove the display/screen part for safety and theft measures.
The entire digital system has a Multi-Language Display (English, Chinese (Simplified), French, Spanish, Portuguese).
Moreover, the AVH-210ex is a 2006 CEA Compliant and it comes with a 1 Year Warranty by the manufacturer from an Authorized dealer.
The system even has a cool beep tone navigation sound which can be turned on and off from the system settings.
In the Box Contents
At first glance, you will get a slim, solid, and compact unit of a digital media receiver i.e. the Pioneer AVH-210ex in the box comprising of the multimedia digital receiver, DVD video playback player, and a 6.2-inch resistive touchscreen.
Besides this, the entire wiring harness for the front camera input, backup camera input, video playback input-output ports, antenna, microphone, and the installation guide is present in the box which can help anyone to install the digital media receiver without any hassle.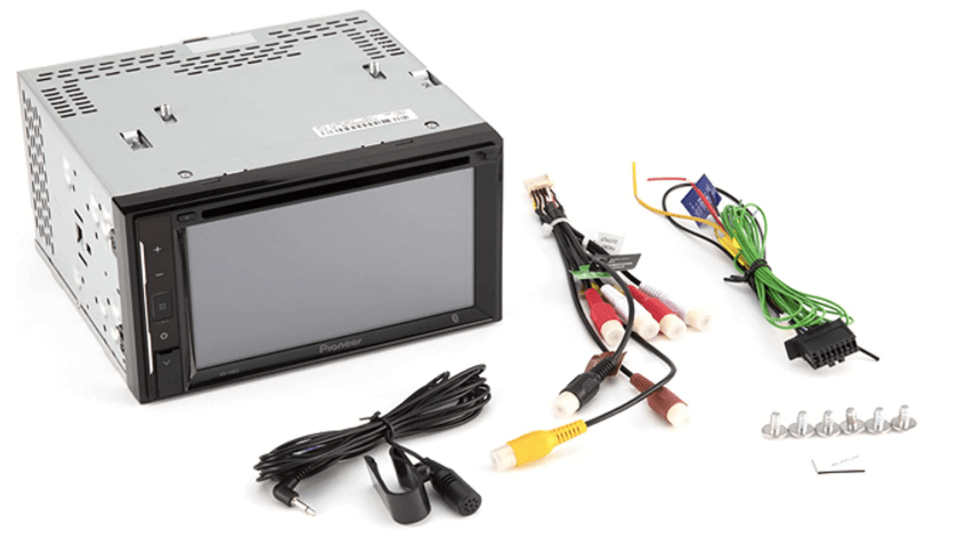 Other key accessories and items to the entire automotive entertainment system:
AV In and out harness cable for the head unit.
A multimedia remote control (Lithium-ion battery included) for Pioneer AVH-210ex.
GPA antenna (Long enough for hassle-free installation).
USB Extension cable harness (Long enough to place USB port within the vehicle dashboard).
High-End External microphone (Mounting bracket included) for hands-free calling using android devices and iPhones.
Cables for the two video inputs one for the rearview camera and another one for the backup camera. The backup cam here helps in parking assistance.
Pros & Cons
Pros
Being a market leader the Pioneer AVH-210ex has zero (0%) percent lag within its touchscreen within its head unit.
Provided with the installation guide it's way too simpler to install.
The vibrant range of colors in the 6.2-inch display.
The front and the backup cameras are in HD with higher resolutions.
It's a double din system that Supports both Android and Apple Carplay. (iPhone users can directly plug in the phone to listen to the music with the cool song thumbnail displayed on the 6.2-inch touchscreen).
Built-In Bluetooth for Hands-free calling and audio streaming. (Here a Bluetooth connection is required in the mobile or a Bluetooth enables third-party adapter would be plugged into the USB input)
Android music support through MTP (Media Transfer Protocol).
Front and rear view/backup camera input support.
Support GPS Navigation.
You can map your OEM steering wheel controls to control the automotive entertainment system.
You can manage and match the dash RGB lighting.
You will get the best sound quality while audio streaming from USB, wireless (Bluetooth), or an AUX cable through an advanced audio distribution profile under the same price segment. A bit of tweaking is required in the subwoofer settings.
The Pioneer AVH-210ex will give you the best in segment DVD/CD video player with all the supported file formats including the audio files as well. (You can refer to the specifications section for the supported file formats).
Cons
You would need to convert the video files to a specific format to play the videos (video playback). The digital media receiver is not that much comfortable with all the video files formats like MP4, AVI, etc.
The AVH-210ex is a bit reluctant in connectivity when it comes to older iPhones and iPods, whereas with the new ones you won't get any issues.
The USB which you will plug into the digital media receiver USB port would need a pre-formatted file system version of FAT16 and FAT32 only. (Avoid other formatting file systems).
You will get volume control buttons, not the traditional turning knobs. (Steering wheel control is separate which is not a part of this pioneer unit)
A portion of the beautiful 6.2-inch display is taken away by the DVD/CD player, where you will watch DVDs and this will pinch you every time you will look at the entertainment system.
The USB input rear port is in the backside of the digital media, you will need to extend this USB connection through the cables in the front of the dash to make it easily accessible. This will now act as rear USB input. (The same goes for the AUX input port).
Frequently Asked Questions (FAQs)
Does the Pioneer AVH 210ex have GPS?
Yes, the Pioneer AVH 210ex provides you with the box GPS Navigation system and antenna.
This will help you enhance your GPS navigation signals and the length of the antenna is well enough (around 10-foot cables in length).
Thus, now you will be able to use GPS Navigation within the automotive entertainment device rather than using your mobile phones or tablets GPS.
How many watts is a Pioneer AVH 210ex?
The Pioneer AVH 210ex operates on a power Output of (14W RMSx4 Channels) with an S/N Ratio of (91 dBA). The rated power source is 14.4 V DC.
In terms of Audio, the maximum power output is (50W X 4 channels) and (50W X 2 Channels + 70W X 1 channels) for a subwoofer.
Does the Pioneer AVH 210ex have Apple Carplay?
Yes, The Pioneer AVH 210ex supports Apple Carplay. It even supports and claims USB direct control for iPhone which means you can directly plug in your iPhone and iPod in the USB port to get a clear audio streaming for all your favorite songs with a cool song album art displayed on the 6.2-inch screen. Thus the system supports high-quality integration with Apple CarPlay.
How do I pair my phone to my Pioneer AVH 210ex?
With Pioneer AVH 210ex the connectivity for a mobile device is made simple and easier with wireless and wired connectivity for both Android and iPhones. Here you will get both Android Auto and Apple Carplay.
Moreover, you can connect your mobile phones using USB direct control for iPhones and Android devices (iPhones and Android smartphones).
The Android Music Support is done using the MTP (media transfer protocols).
Getting deeper into technology the AVH 210ex supports hands-free calling via cell phone and audio streaming with built-in Bluetooth (HFP).
The (A2DP) wireless audio streaming along with hands-free calling is the best combination to play all your favorite titles from your music apps or music library, and listen to your loved ones at the same time.
(The automotive entertainment system supports Bluetooth Hands-Free Profile 1.6 including wideband speech capability).
Moreover, you can operate the functions like play, rewind, forward, previous, and repeat from your mobile phone connected through the USB port. (USB drive should be formatted with FAT16 and FAT32 file system).