You can make the most of your outdoor speakers by connecting them to a good receiver amplifier for that extra rich sound and bass.
Whether you are enjoying an outdoor brunch with your family or hosting a pool party for your friends, you'd need to go for the best receiver for outdoor speakers to make the most out of your speakers.
Well, you ask about the benefit? It would help your speakers produce rich and clear sound at high volumes.
A receiver/amplifier unit allows you to seamlessly connect multiple devices and achieve audio playback from speakers connected to the unit.
Furthermore, many Bluetooth stereo receiver/amplifier models feature various technologies that create an immersive audio experience, with Dolby Digital Sound as the most popular.
Buying such a stereo receiver for your outdoor Speakers enables you to realize an optimized audio experience in both outdoor and indoor environments.
There are ample options in the market but, only a handful of them are really good for long-term usage.
This review features receiver/amplifier units that offer essential functions to models with an extensive array of capabilities.
Thus, we could only select 8 good receivers/amplifiers for outdoor speakers that offer the best features for the right price.
Best Receivers for Outdoor Speakers
Best Outdoor Stereo Receivers Review
1. Sony STR-DN1080
This outdoor stereo receiver can produce a total of 1155 Watts of Sound Output, i.e., 165 Watts x 7 speaker channels.
Sony STR-DN1080
8 HDMI ports, i.e., 6 inputs and 2 outputs
Infrared Remote Control
Wii and Bluetooth compatible
LAN Network Ready
7.2 Channels, i.e., 5 speakers and 2 sub-woofers
Dolby Atmos Surround Sound Technology
Automatic Speaker Calibration
You can easily stream audio content from Bluetooth. This receiver/amplifier also supports AirPlay, Chromecast, Spotify and other streaming protocols.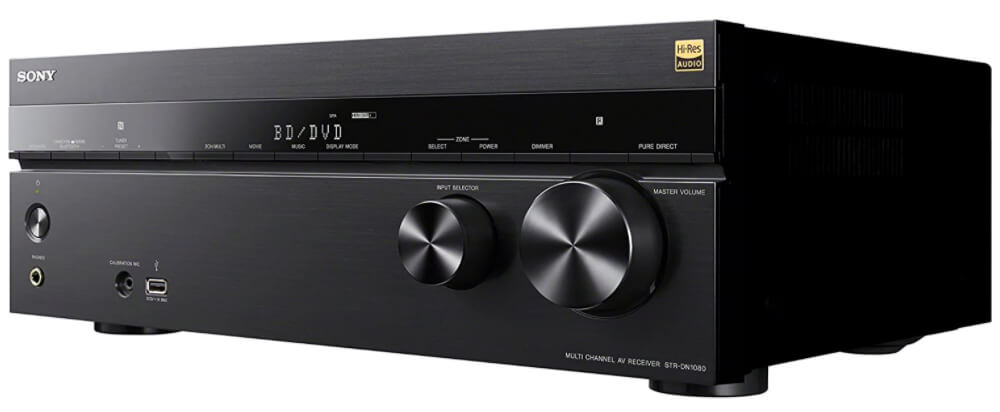 Pros
Can play HD audio content on outdoor speakers
Voice Command Control via Google Home
USB Audio Playback and Charging
Cons
Might be an expensive option for you.
2. Yamaha R-S202BL
The control interface on the Yamaha R-S202BL features a Master volume knob, Audio Source select buttons, Radio Tuning and Presets, and Bass/Treble control.
YAMAHA R-S202BL Stereo Receiver
40 AM/FM presets
Audio Streaming via Bluetooth
Direct connection via AUX/RCA ports
Infrared Remote Control
Automatic speaker calibration
4 Speaker Output Channels
You can stream audio from Bluetooth-enabled devices, connect four 8 ohms speakers and even listen to music on your headphones.

Pros
Friendly easy-to-use control interface
100 Watts + 100 Watts Output
Lower end receiver/amplifier at $ 129.95
Cons
WiFi incompatible
Incompatible with HD audio and video content
3. KEiiD Stereo Receiver
The feature-rich front of the KEiiD receiver/amplifier is littered with an array of knobs and push-buttons, i.e., Master Volume, Bass/Treble control, Radio Presets and Audio Playback control.
You can stream audio from various devices wirelessly, play audio stored on flash memory and install the KEiiD receiver/amplifier as a shared network resource.
Pros
5-Levels of voltage-current protection
Public Address Function via front Mic port
Direct connection via USB, AUX and RCA ports
Low-end receiver/amplifier at $ 109.99, shipping not included
Cons
Total output at 2 x 40 Watts
4. Pioneer Elite VSX-LX104
The front of the Pioneer Elite VSX-LX104 features two large Input Selector and Master Volume knobs at either end of the unit, and AM/FM tuner preset controls.
Pioneer Elite VSX-LX104 7.2-ch Network AV Receiver
Dolby Digital Surround
7.2 Channel receiver/amplifier, i.e., 5 speakers and 2 woofers
Auto Room tuning
HDMI compatible, i.e., 5 Input ports and 1 Output port
SONOS ready
LAN network ready
Bluetooth Audio Streaming
You can stream audio from Bluetooth connected devices, calibrate speed speakers for fully immersive surround sound, connect the receiver/amplifier to your LAN, and play HD audio with ease.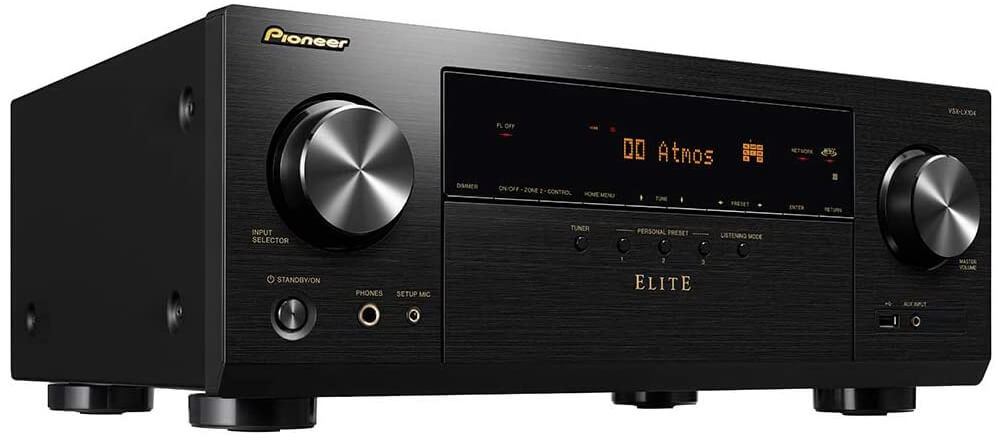 Pros
Plays HD audio and video
Direct connection via USB, AUX and RCA ports
Remote Control function
Voice Command function via Apple AirPlay
AM/FM receiver with 40 presets
5. Sony STRDH190
As with other Sony receiver/amplifiers in this review, the front of the STRDH190 is stylish and straightforward, featuring a Master Volume and a smaller Input Selector knob on one end and FM tuner presets.
You can stream audio in immersive Surround Sound, connect a Phonograph to the unit and listen to up to 40 FM radio stations on the Sony receiver.

Pros
Multi-device Bluetooth connection
Phonograph compatible
Supports immersive Dolby Surround Sound
Basic Bluetooth Stereo Receiver/Amplifier functions
Cons
Cannot play HDMI music and video
Not WiFi Compatible
Does not offer Auto Speaker Calibration
6. Onkyo TX-RZ720
The stylish front of the Onkyo TX-RZ720 receiver/amplifier features a large master volume knob on the left, two smaller knobs for tone and listening mode, and a line of buttons for various essential functions.
You can listen to up to 40 FM stations, stream audio via Bluetooth and WiFi, enjoy immersive 7 speaker surround sound and install the Onkyo TX-RZ720 as a shared network resource.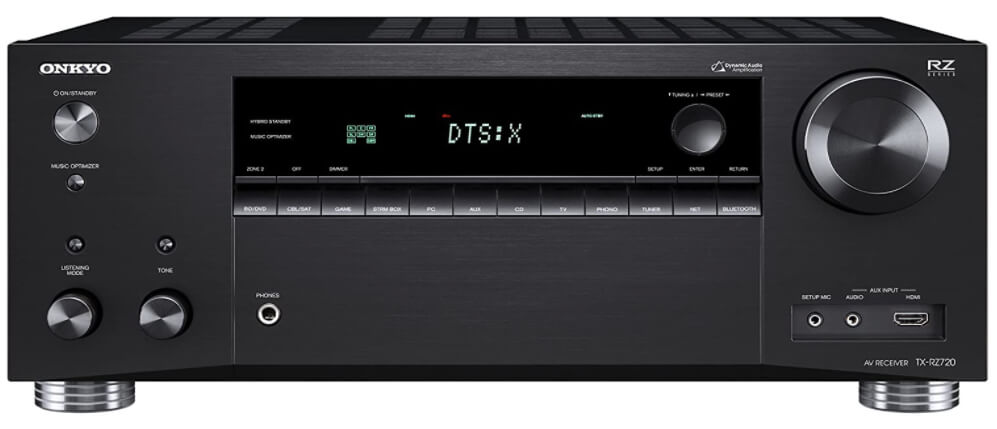 Pros
1575 Watts Total Audio Output
Audio streaming via Bluetooth and WiFi
Plays HDMI Music and Video
Immersive Dolby Atmos Surround Sound
Voice Command function via Chromecast
Direct connection via USB, AUX, HDMI and RCA ports
Cons
Expensive high-end receiver/amplifier
7. Pioneer SX-10AE
The stylish front of the Pioneer SX-10AE features a large Volume knob on the left, two Tuner preset functions, recessed Audio input buttons and the Power button on the right.
Sale

Pros
Only essential Bluetooth speaker functions
Decent receiver/amplifier at an affordable cost
Optimized Audio Output via Direct Energy Design
Direct connection of devices via AUX port
Cons
Does not support WiFi, USB, HDMI or RCA Audio Input
8. Denon AVR-X4500H
The stylish front of the Denon AVR-X4500H has the Master volume and Input Selector knobs on either end of the unit.
The concealed control panel USB, HDMI and AUX ports and Tuner controls alongside other essential functions.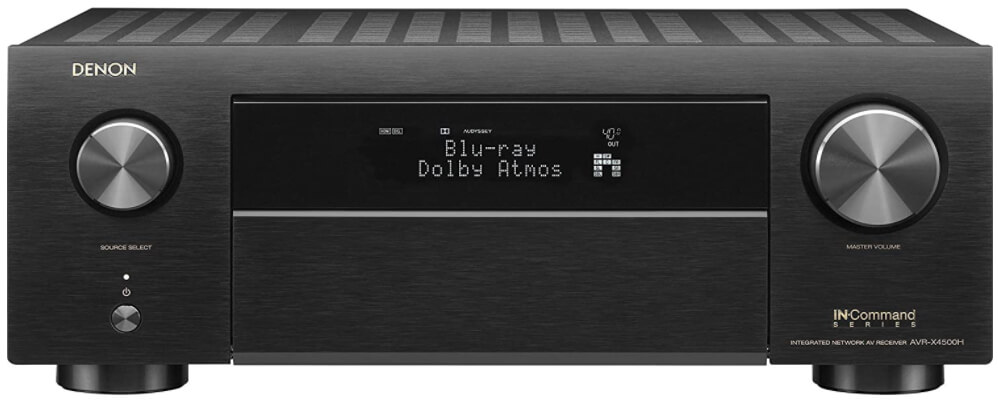 You can stream audio via Bluetooth and WiFi, enjoy remarkable Surround Sound from ou, use your voice to control various functions, connect the unit as a shared network resource and play HD audio and video content.
Pros
1125 Watts Total Sound Output
Plays HD Audio and Video
Direct connect devices via USB, HDMI, AUX and RCA ports
Impressive Surround Sound capability with 9.2 speaker connections
Seamless Audio Streaming via WiFi and Bluetooth
Cons
It is an expensive option
What to Look for in a Receiver/Amplifier for Outdoor Speakers?
Bluetooth connectivity and immersive sound technology are important considerations to have in mind when you are in the market for a receiver/amplifier sound system.
Also, just like you'd want a compact amplifier for your car, similarly, you must try to go for a receiver that doesn't take a lot of space in your room.
However, there are other desirable features in an ideal receiver/amplifier for outdoor speakers. These attributes fall into three main categories: Physical Audio Input, Audio Streaming Functions, and Audio Output Capabilities.
Physical Audio Input
Physical Audio Input refers to the various methods in which you get to play audio content on your stereo receiver via a physical connection to the device. The majority of stereo receiver/amplifier models utilize multiple Audio Input methodologies, which include: –
AM/FM Radio
You find in-built AM/FM tuners in many home stereo receivers that allow you to scan for and save your favorite free-to-air radio stations within the 63Hz- 108Mhz FM frequency range and the 535Hz-1605kHz AM frequency range.
To access the Tuner function on your stereo receiver, you must first connect a separate FM and AM antenna to the unit.
Note that manufacturers are shifting to Tuners that only receive FM frequencies due to the declining use of the AM frequency band.
AUX/RCA Ports
Most stereo receivers allow you to directly connect CD/DVD players, phones, iPods, Mp3 Players, TVs, and other devices via AUX and RCA ports.
RCA ports are typically found at the back of the stereo system while you can often find a single AUX port at the front of the outdoor stereo system.
USB Ports
As with RCA and AUX ports, the USB port on a stereo receiver sound system allows you to connect flash storage to the device.
In this manner, you can achieve Audio Playback on your receiver/amplifier from audio and video content stored on thumb drives and external hard disks.
You can also enhance the Audio Streaming capabilities of your receiver/amplifier by connecting specialized components to the device via USB, such as the Chromecast Dongle.
SD/Micro-SD Port
Some stereo receivers even feature a TransFlash slot that allows you to realize Audio PlayBack when connecting an SD or Micro-SD card to the unit.
Mic Port
When your receiver/amplifier has a Mic Port, you can connect a microphone to the unit at the front or back and use it as a Public Address system via your outdoor speakers. This is a useful feature when holding functions outdoors.
HDMI
Some high-end receiver/amplifier models feature multiple HDMI ports that allow you to connect HDMI-enabled devices physically and, thereby, play HD Audio and Video to the outdoor sound system.
LAN
A receiver/amplifier unit that features a LAN port allows you to connect your home stereo receiver to an existing computer network.
In this manner, the stereo system becomes a shared resource in the network and, very much like a printer, you can initialize Audio Playback from any connected desktop or laptop.
Audio Streaming Functions
Audio Streaming Functions refers to a wide array of technologies that allow you to stream audio content to your receiver/amplifier unit wirelessly. These technologies include: –
Bluetooth
You can connect multiple Bluetooth devices to your receiver/amplifier if the unit features Bluetooth connectivity.
The devices you can connect include iOS and Android smartphones, tablets, laptops, and other Bluetooth-capable devices.
In this manner, you get to achieve Music Playback on your stereo receiver via dedicated audio streaming platforms such as Spotify, AirPlay, and others.
Some high-end receiver/amplifiers are even compatible with Apple CarPlay and Android Auto, allowing you to use the CarPlay and Android Auto platforms to stream audio to the device seamlessly.
WiFi
As with Bluetooth, WiFi functionality on your receiver/amplifier allows you to connect multiple devices to the unit via a localized WiFi network. You can then stream audio content to the receiver/amplifier over the WiFi network from different devices.
Audio Output Capabilities
Audio Output capabilities refer to the nature of Audio Output from your receiver/amplifier. Audio Output capabilities include: –
Surround Sound
As mentioned in the introduction, most stereo receivers support Dolby Digital and Dolby DTS surround sound technologies. This means you get to experience immersive Music Playback by utilizing a specific speaker configuration.
Amplifier Channels
The Amplifier channels of your receiver/amplifier refer to the number of speakers you can connect to the unit, with the value given in the decimal format.
The number of full-range speakers is indicated by the value in front of the decimal, while the number of sub-woofers comes after the point.
Speakers for outdoor use can be considered as full-range speakers. Other outdoor stereo features worth mentioning include Auto Speaker Calibration and Voice Command Control.
Frequently Asked Questions (FAQs)
Do you need a receiver for outdoor speakers?
If you have passive speakers which do not already come up with an inbuilt amp, you should definitely buy the receiver as it will help your speakers to perform at their full potential (max power) without any distortion.
How do I connect my outdoor speakers to my receiver?
Most outdoor speakers are compatible with any stereo receiver/amplifier. Make sure your receiver is of enough watts to power your outdoor speakers. Majority receivers/amps today have A+B channels. You can easily use the extra channel to drive exterior sound. Don't forget to check the instruction manual of your receiver/amp for setting them up with your outdoor speakers.
Where do you put the receiver for outdoor speakers?
You can put them anywhere as per your convenience. The main thing is that they should be properly connected to your outdoor speakers. We'd recommend you using the CL3 rated special wire for outdoors.
What is the best outdoor sound system?
In a budget option, you can go for the Polk Atrium 4 followed by Polk Atrium 6 if you don't have a budget constraint.
Can a stereo receiver be used outdoors?
Yes, a stereo receiver can be used outdoors as long as it is designed for outdoor use and has the necessary weatherproofing features to withstand outdoor conditions. Do check the specifications and user manual of your stereo receiver and ensure it is suitable for outdoor use.
CONCLUSION
Your final choice of receiver/amplifier unit not only depends on the range of functionality you desire but, more importantly, on how much you are willing to spend.