If you are looking to upgrade your car entertainment experience and do not want to spend a bomb on the upgrade, the Sony XAV AX 1000 might be the perfect choice for you.
The Sony XAV-AX1000 offers you great functionality at a very low price. Its pocket-friendliness makes it a wonderful choice for your vehicle. It offers you an exciting car audio experience every time you use it.
The sound quality is top-notch and better than the factory radio. Once you tether your phone, it gets mirrored in the 16.2″ clear and responsive touch screen. From there, you can easily control your phone and music playback.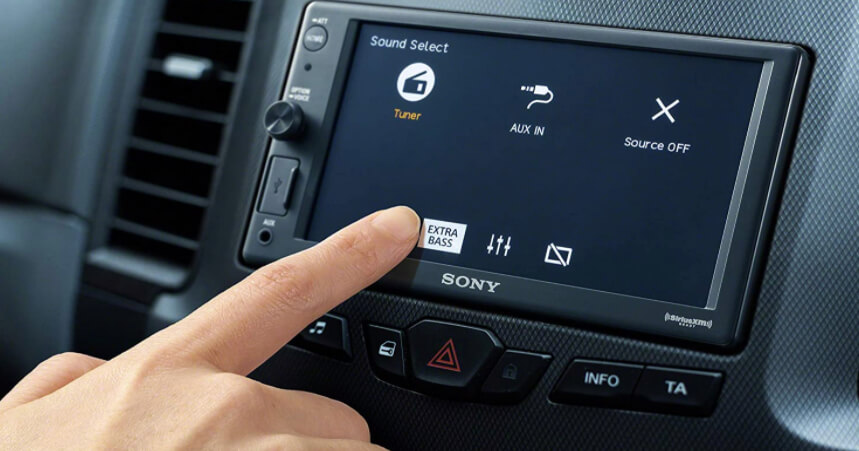 If you are fond of technology and features, the XAV AX1000 will highly satisfy you with its great features and specifications.
Using this digital media receiver, you can easily make and manage calls, listen to the radio, and access your smartphone. It accepts voice commands, giving you the luxury of simple voice control with your eyes on the road.
Review At A Glance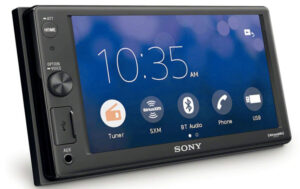 Product Name: SONY XAV-AX 1000
Product Description: The XAV AX 1000 is a digital media receiver by Sony which is quite famous for its sound and display systems. The XAV AX-1000 is a budget-friendly option. There have been claims by Sony that its display waked up nearly 2 and a half times faster than the earlier models. It works well with Apple CarPlay, has a clear responsive touchscreen, and supports clear amplification of sound even at higher volumes.
Summary
There is no doubt that the Sony XAV-AX 1000 is a really good media receiver on a budget. It comes packed with a lot of features. 
The receiver could be fitted easily in your vehicle, work well with your Apple iPhone system. You can use voice command to control the functions. Not only that, but the built quality is also sturdy, the reason why this product has received a great response from its customers all across the globe.
Features

Ease of Use

Built Quality

Sound Experience

Price
Pros
Clear and powerful amplification
Budget friendly
Easy installation and rear view camera ready
Fluid and highly responsive VGA screen
Enabled with Dynamic Stage Organizer technology
Supports Android Auto and Apple CarPlay
Easy volume controls
Voice control for safe driving 
Cons
Better options available with better technology if you are ready to spend more
The price and quality make it a wonderful choice for your vehicle. In the market, a double din car stereo that is power-packed with features will cost you good money.
On the other hand, a cheap car stereo will probably break in months, costing you more in the long run.
Sony XAV AX1000 Review
Unlike the many after-market stereos out there, the Sony XAV-AX1000 is of great quality.
It features a well-designed interface making it simple to navigate. In this Sony XAV-AX1000 review, we will be looking at both the good and the bad in this media receiver.
Voice Control
Apple CarPlay media receiver allows you to connect your iPhone. You get your essential iPhone functions on the road. You can talk to Siri, check for text messages, voicemails, and even take phone calls.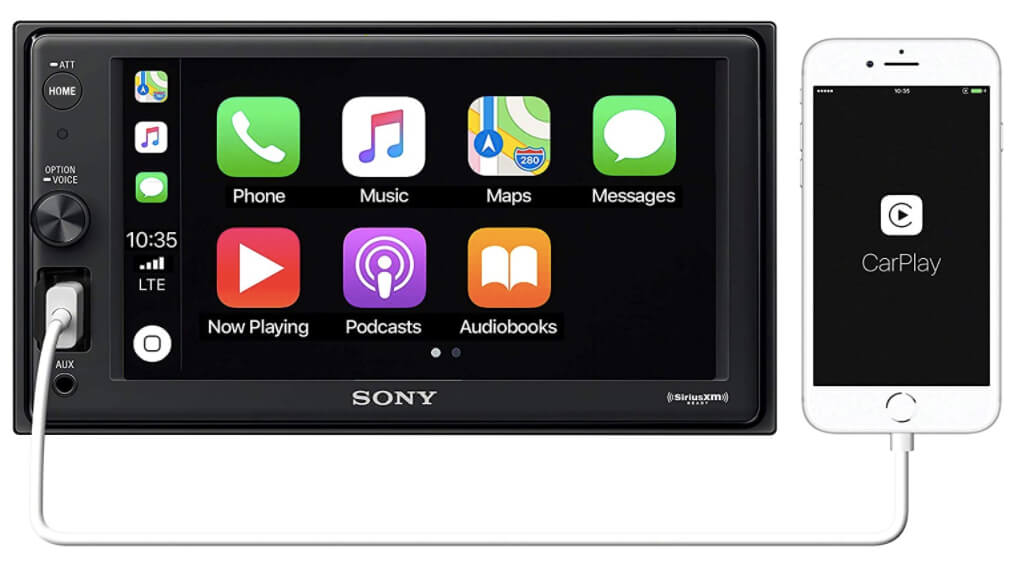 You can listen to music with iTunes and Apple Music. Apple CarPlay allows you to control music playback or bring up maps without taking your eyes off the road.
Touch and turn
It is wonderful to have touch control on a 15.7cm screen, but that's not all when it comes to the Sony XAV-XA1000 double din care stereo receiver. The XAV-AX1000 comes with a volume knob that works great and is easy to use.
To access the receiver's sound control menus, you just push the dial. To use voice commands, you hold the same button.
However, you have to have an external microphone installed for voice control. The volume knob works perfectly with Apple Car Play.
Rear View Camera
Rearview cameras are important and save you time when reversing your vehicle. With one installed in your vehicle, you can view its feed through the screen. The screen has guidelines to help while backing in. These guidelines are customizable.
The Sony XAV-AX1000 comes with a rearview camera input that is dedicated. This gives you a confidence boost while on the reverse gear. But for the rear camera to work great, you will need a wired connection to your gearbox during installation.
For you to even play video on the media receiver's screen, your packing gear has to be engaged. So, your packing gear must be connected and set to view your video on the 6.2″ screen.
Bluetooth
The Sony XAV-AX1000 media receiver comes with Bluetooth functionality, that allows you to stream wireless music from your smartphone and even take phone calls while driving. You can see your caller's ID via the 6.2″ screen and even dial via the XAV-AX1000 touch screen, almost converting your car into your office.
Dynamic Stage Organizer
The Dynamic Stage Organizer gives you virtual speakers on the dashboard of your car. Giving you sound that is clear and not distorted in any way.
If the speakers of your car are placed low in the doors of your car or beneath the dashboard, sound with high frequency is often lost, which leads to lost clarity. It also becomes impossible for instrument separation.
Dynamic Stage Organizer gives you excellent sound quality by leveraging digital sound processing to lift the sound, which improves stereo positioning making the music sound like it is coming from your front. This is made possible by the fact that sound waves are directional.
Powerful sound quality
Sony's head unit gives excellent sound quality. You can listen to any genre, at your preferred volume.
The Dynamic Reality Amp 2 allows you to play music as loud or soft as you would like due to it giving off 4 X 55W of power. The amp also has less than 50% internal resistance, which is lower than many other head units.
Free Lossless Audio Codec
FLAC is an audio format just like mp3 that allows for compression of digital audio that is lossless. This affords you the luxury of listening to every detail of the music being played by the car stereo.
Compact Rear Chassis
Unlike convection double DIN car stereos, there is plenty of room for cabling on the Sony XAV-AX1000 due to the small size of the chassis. This makes the installation of the Sony head unit easy and gives better cable management.
Navigation
With the Sony XAV-AX1000, you do not have to debate with yourself or your friends in the car whether to see help in getting directions as you are saved from this hustle. To get to your destination or stopovers in between your journey, can be as easy as following GPS directions.
You just have to feed your phone with your destination, and you will get directions in real-time on the move.
Additional features
The XAV-AX1000 comes with one front USB port. With this, you can use it to have the contents of your iPhone screen mirrored on the big 6.2″ media receiver. It also can be used to charge your phone. It also plays files from USB sticks.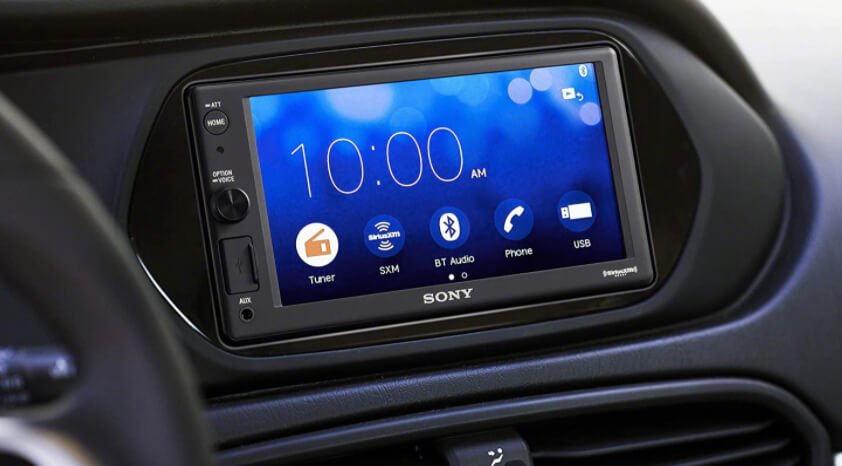 The AUX input makes it convenient for you when you want to listen to music that would bother guests in your car or even when you want to listen to something private.
It also comes in handy when you want to play music from an old mp3 player with the quality of sound offered by XAV-AX1000 head units.
Specifications
Size
The Sony XAV-AX1000 weighs 0.9Kg. It measures 178 X 100 X 141mm. The head unit is double DIN, the din referring to an opening that a radio fits into measuring "2 X 8". Therefore, this head unit measures "4 x 8."
Bluetooth
The Bluetooth features a speed dial that allows you to access recent phone calls and the last dialed call from your phone's history.
It sorts your contacts alphabetically for easy retrieval whenever you call someone. When connected to your phone via Bluetooth, you get control over call and ring volume. It does not have an inbuilt phonebook and cannot automatically answer calls for you.
When playing audio, you can pause the audio, adjust the audio level in between -6db and +6db according to your liking. You control the shuffle and repeat your audio files.
USB Mass Storage Device Control
You can play audio files from a USB mass storage device. The audio files can be shuffled, be put on repeat, paused, and resumed as you like. It accepts a range of audio playable file extensions like .mp3, .flac, .wav, .wma, and .m4a. With video it accepts the following file extensions .mkv, .mp4, and .wmv.
All these file extensions allow for almost any video or audio file to be played by the XAV-AX1000.
User Interface
The interface is easy to use. It features a touch panel that is resistive and not compatible with multi-touch. It also allows for gesture control and aspect ratio selection.
The volume knob is a full fledged control wheel. You can control multiple functions using the same.
The head unit also makes parking and reversing much easier thanks to the rearview camera feed. This helps you back in faster and with confidence.
Multi-Language
Sony's XAV-AX1000 supports many languages. The menu, caution, and ID3 TAG are supported in up to 12 languages. These are English, Spanish, French, German, Italian, Russian, Portuguese, Thai, Simplified Chinese, Traditional Chinese, Korean, and Arabic.
Monitor
The XAV-AX1000 head unit monitor features the TFT active Matrix LCD type. It comes with the 800 x 480 screen resolution with a dimmer. This head unit automatically changes to night mode when the night sets in.
The screen aspect ratio is 16: 9, with a 600-contrast ratio. The 6.2″ screen diagonal comes with a 450cd/m2 luminance.
Remote control
This allows you to control the head unit no matter your sitting position in the car. With it, all features of your car stereo can be accessed. The remote is shipped with the XAV-AX1000 Sony model.
Conclusion
We all know that long journeys can be exciting the whole time with a media receiver that works great. As seen in this Sony XAV-AX1000 review, this car receiver is a great media receiver that is affordable.
It is a great improvement from the factory stereo and has a range of uses relevant to this century.
The media receiver is ideal for them who prioritize their safety while driving, for it is possible to give it commands without getting your eyes off the road with voice commands. The digital media receiver sound quality sets it apart from other receivers within the same price range.
Just like any other product out there, the Sony XAV-AX1000 has a few shortcomings. The media receiver does not support android auto, and the only way to use your smartphone with the Sony XAV-AX1000 is via Bluetooth via the Apple Car Play. This is unfortunate for you cannot connect with Google Maps.
Though, just to avoid the confusion, some customers have confirmed that they can use Android Auto but majority can't. We guess, this is one feature which Sony should confirm.
For old school peeps, you'll be disappointed to find out that the media receiver doesn't have a CD player. But these few shortcomings cannot be a deal-breaker. It has tons of exciting features to compensate for where it lacks.
The Sony XAV-AX1000 is compatible with steering audio controls, but an adapter may be required.
This Sony media receiver works great and gives a great experience throughout your journey and thus is a wise purchase and a major upgrade to your vehicle's audio system.
We hope that this Sony XAV-AX1000 review will make your search for an Apple CarPlay media receiver much easier.
Note:
The images used in the post are taken from Amazon and stock photo sites.