The Alpine ilx-207 is a head unit that is packed with the latest smartphone-friendly technology. This digital media receiver optimizes the main features of your smartphone in a way that lets you be attentive in your driving. The Alpine ilx-207 comes with Android Auto and Apple CarPlay interfaces making it great for smartphone use while driving.
The Alpine ilx-207 is an upgrade from the ilx-107 that became successful and popular quickly after launch. It was the first-ever car audio stereo system to have wireless CarPlay by Apple for their IOS smartphones. Having shaken the world by the iLX-107, the folks at Alpine did not rest on their laurels and gave us the ilx-207.
Upon the release of the Alpine ilx-207, the few shortfalls of the Alpine ilx-107 were well taken care of. The ilx-207 is what comes to be when the crème de la crème of head units is improved upon. The iLX-107 had a few shortcomings, but as we will see in this Alpine ilx-207 review, this new unit is more than just an upgrade.
Review At A Glance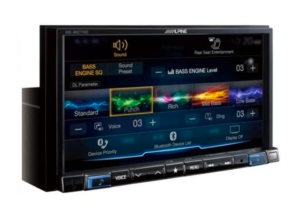 Product Name: Alpine ILX-207
Product Description: The Alpine ILX-207 comes up with a back up camera for your car. It has got a capacitive touchscreen using which you can easily control the stereo. It supports Apple CarPlay and Android Auto so that you can listen to your favourite music seamlessly.
Summary
Alpine ILX-207 is a great stereo for the money. Not only it looks beautiful, it comes along with some really good features that make your music listening experience really good.
Moreover, whether you are an Android or an iOS user, the stereo support both Apple CarPlay and Android Auto using which you can easily connect your smartphone with the media receiver.
Features

Ease of Use

Built Quality

Sound Experience

Price
Connecting your phone to this head unit is simple. You connect your smartphone using the charging cable and Bluetooth for Android Auto use. You get driving directions, access to text messages, phone calls, and music all controlled from the 7" screen and heard through your vehicle's speakers.
iPhone users are not left behind. They get to make and receive phone calls, play music, get driving directions, and access text messages. It is all heard from the speakers of your vehicle. Apple CarPlay or Android Auto can be accessed using a voice command or the capacitive touch screen. The voice control is pretty good.
Highlighted in this review are some of the features and specifications of the Alpine ilx-207 digital multimedia receiver.
Alpine iLX 207 Reviews
Highlighted in this detailed review are some of the features and specifications of the Alpine ilx-207 digital multimedia receiver.
Included in the box is, of course, the double din head unit from Alpine. The unit comes with a 7" display with inbuilt capacitive touch screen, HD radio Tuner, Bluetooth 5.0 wireless connectivity, Support for Android Auto and Apple CarPlay, wiring harness for steering wheel controls and camera input.
The unit comes pre-wired and ready to be installed. It also includes a camera input adapter, 5-foot USB extension cable, trim ring, and many more items. The installation is easy as the pre-wired components and wiring harness streamline the entire process. Alpine has a reputation for making the installation process of their units as easy as possible.
KEY FEATURES
MASSIVE DISPLAY
It is no doubt that the screen of your head unit defines your vehicle's stereo system. The ilx-207 comes with a 7" touch screen, an anti-glare screen, and an interface that allows you to swipe. The interface gives a 4-way swipe action control. Whether you swipe from the left, right, up, or down, you are a swipe away from some of the most accessed features.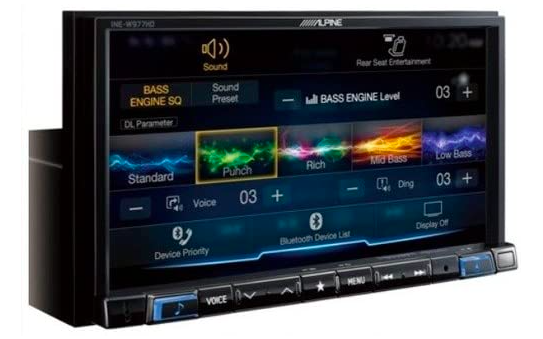 Check on Amazon
The 7" display acts as the central hub for the Alpine ilx-207 and feels like a tablet placed in your dash. Just like your tablet, you can tap, swipe, and pinch on the ilx-207 screen. This makes using this digital media receiver simple and hence the non-existence of a learning curve.
To access audio and video commands, swipe right. Swiping across the audio and video screen will give you access to all your entertainment sources like Bluetooth audio streaming, Pandora, Sirius XM, and many more. If your car has a rear entertainment system, you swipe down to access the adjustment settings. The rear entertainment system is sold separately. The audio adjustment settings can be accessed by swiping down to. To access Bluetooth and source selection, you swipe up.
ENTERTAINMENT
Taking a long journey without entertainment or with limited entertainment choices can be boring. With this Alpine's digital media receiver, that should not be the case unless you choose to. The Alpine ilx-207 comes with an inbuilt HD radio tuner, rear AUX and USB inputs, and Bluetooth connectivity.
With the HD radio tuner, you get in digital format all the music and programs you would like to listen to. The quality of the sound of FM stations is like that of a CD. The sound quality of AM stations is like that of FM stations. Alpine does nothing less than HD when it comes to radio. Both sound qualities of FM and AM stations have virtually zero distortion. Smart Reception Management by Alpine keeps you tuned even in areas that have limited digital reception.
In short, the sound quality beats all the major aftermarket receiver head units. Thus sound quality is one thing you can be assured of.
SATELLITE RADIO READY
To add to your already rich entertainment system is the SiriusXM satellite radio. This ilx-207 digital media receiver comes being SiriusXM ready and connects to the SiriusXM SXV300 Connect Vehicle Tuner Kit.
SiriusXM lets you scan and select songs on music channels that you prefer using TuneScan. TuneStart lets you start music from the beginning when listening to any of your favorite music channels. When listening to satellite radio, you are accorded the luxury of pausing, replaying, and rewinding up to 60 minutes of live radio content.
The Tuner kit is sold separately, and a subscription is required.
ANDROID AUTO
Android auto mirrors the main features of an android device to a car stereo. This affords you the luxury of driving your car without missing any updates from your android smartphone. Android Auto gives you Google Maps – powered navigation system.
As it is known, there is no way you would lose your way with Google maps. Directions are given to you step by step by the Google-maps powered navigation, and it automatically finds you new routes if it notices heavy traffic.
You can easily voice control Android Auto. Whatever you may need, be it a song, contact, a text message can be easily done for you, and all you have to do is speak. This ensures your safety as your hands will be on the steering wheel and your eyes on the road. If someone texts you, the text will be read aloud to you, and you will dictate the reply. All this time, your focus will and should be on the road.
NAVIGATION
With this digital media receiver getting lost or asking for directions should be a thing of the past. Entering a destination address has never been easier than in this ilx-207 car stereo. The Alpine Go app lets you send a destination from your smartphone to your Alpine system. You are also allowed to save and build a list of locations shared from different apps.
This car stereo's navigation is further enhanced by a GPS antenna that comes with the double din Android auto unit.
MULTIPLE CAMERA SYSTEMS
Adding a rear or front camera to assist you with your driving has never been easier than adding them to the Alpine ilx-207. The KCX-C250MC Multi-Camera Selector allows you to easily control the multiple camera systems from the 7" touch screen. The different names of the connected cameras systems will appear on the main screen. To use one, you simply select the camera system you would like to use. You then choose the viewing option from the camera to be displayed.
The KCX-C250MC Multi-Camera Selector is sold separately.
BLUETOOTH
The inbuilt Bluetooth wireless technology allows you to stream audio and call hands-free. Icons for cellular signal level and battery level are displayed on the screen.
The inbuilt Bluetooth supports hands-free Bluetooth profile that allows the car stereo to connect to a compatible phone. It also supports the Phone Book Access Profile that lets the head unit display the contacts list of your phone and the name of the incoming caller. The Serial Port Profile allows for wireless replacement of RS-232 based serial communication. The Object Push Profile allows for the sending of virtual materials such as pictures.
iDATALINK MAESTRO
iDatalink Maestro allows you to keep the factory features that you would lose after installing a new car stereo in your vehicle. This allows you to see the status of your vehicle on display. You are allowed to check out other functionalities on the head unit's display. These expanded functionalities include tire pressure, temperature monitors, distance sensors, climate controls, and gauges. Depending on the rear camera being used, you will get parking guidelines that curve according to the steering's motion.
HDMI
From this cable, you get to get more entertainment in your vehicle. Through the Alpine ilx-207, you get to enjoy entertainment content like never before. This car stereo comes with HDMI input and output compatibility. This allows an all-digital video and audio connection using one cable.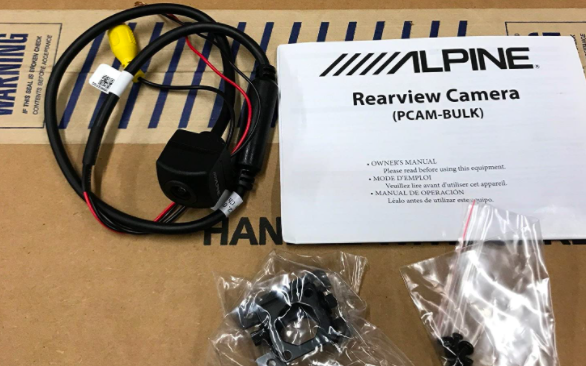 Check on Amazon
You are at liberty to expand your HDMI connectivity using the KCX-630HD HDMI Selector Interface. The KCX-630HD HDMI Selector Interface is sold separately adds an extra HDMI input for more flexibility.
WORKS WITH PANDORA
The Alpine ilx-207 lets you play music directly from your Android mobile device. You get to listen to your favorite Pandora channels.
You don't just get to listen to your channels but also get to operate them wirelessly. You can use the quick search feature, create new stations as well as save your bookmark your favorite tunes on the go.
What's more, it has a Media XPander PRO DSP-Sound Expansion circuitry. This feature ensures that you enjoy the best music quality.
For iPhone users to enjoy these features, they should simply connect their included iPhone / iPod video/audio cable.
FLAC PLAYBACK
The Alpine ilx-207 offers Free Lossless Audio Codec via USB for the best music experience. Some of the other supported formats via USB include MP3, AAC, WMA, and many more.
SPECIFICATIONS
The Alpine ilx-207 weighs 5.55 pounds and measures 10.5 x 10 x 9 inches. It has a gorgeous 7" capacitive touch screen and comes with inbuilt Bluetooth wireless technology 5.0. Bluetooth 5.0 is the latest version of the Bluetooth technology.
CONCLUSION
Now that you have checked the detailed Alpine iLX 207 reviews, you know that it is not simply an upgrade from the ilx-107, but an entirely different system. You can be sure that this car stereo will change your car audio experience and will feel like a worthy upgrade.
The only shortcoming with the ilx-207 is the lack of a CD/DVD player, but that has been well compensated for by the various media playback features.
There is absolutely every reason as to why you should get this car stereo for your vehicle. It is a great head unit and can be recommended to anyone looking for a modern car stereo.
Note:
The images used in the post are taken from Amazon and stock photo sites.