If you are looking for an affordable and straightforward option to get the best audio experience, you can find pretty good options online.
These home systems offer essential features that many people want in a receiver, including Phone input, Bluetooth streaming, CD player, USB input, and they barely take up any space.
Usually, all the major compact stereo receiver brands come with an affordable price tag.
Some people may argue that wireless speakers are a better alternative to stereo systems. Granted, wireless speakers may be popular than traditional radio receivers, but none of them can match the audio quality of a good old receiver and speaker.
However, with as little as $400, you can get some decent speakers for you to listen to your favorite radio stations, podcasts, and music.
This article will help you get all the necessary information to help you choose a receiver that best suits your home audio needs and lifestyle.
Moreover, we would help you choose those perfect compact and small stereo receivers that would fit with your existing speaker setup quite easily.
We have narrowed down the options based on reasons why people purchase radio units.
Here's a list:
The Best Compact Stereo Receivers We Recommend:
8 Best Small Stereo Receivers – Detailed Reviews
1. Onkyo CS-265 Home Audio System
One of the biggest audio equipment manufacturers, Onkyo, is a popular brand among music and home cinema enthusiasts.
This Japanese company makes some of the best multimedia products, amplifiers, speakers, among other things.
One of their best-known and loved products is the Onkyo CS-265 Home Audio System. This receiver is one of the most compact systems, made up of two passive speakers and a single powered head unit.
The system's central unit is made up of the CD receiver, which is an amplifier equipped with an integrated CD player.
It also features Bluetooth connectivity for music streaming and a USB port. This powerful amplifier can comfortably power two speakers, up to 20 W power output, and a frequency response range of 30-22,000Hz.
The Onkyo CS-265 is also equipped with D -T25 2-way speakers with 10cm woofers and 2cm tweeters.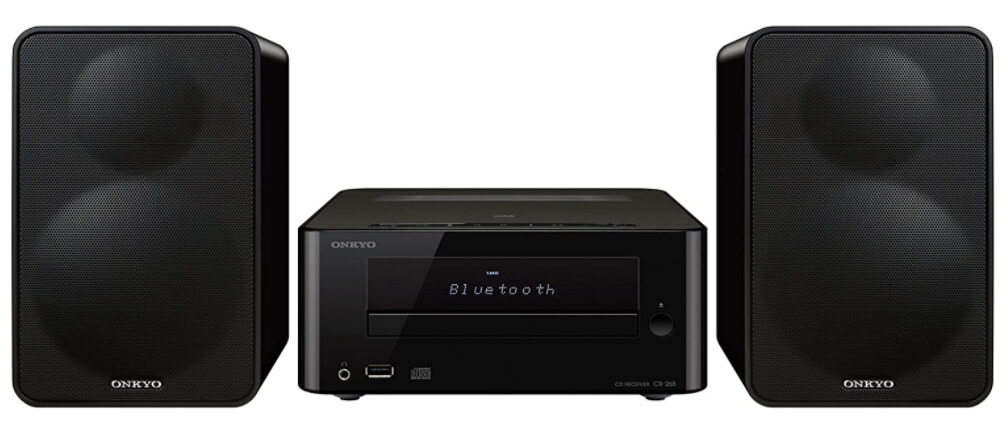 Weighing a mere 1.7 kg and measuring 130x210x176mm each, the speakers are relatively compact and straightforward.
Moreover, these speakers can handle a maximum power input of 40W and a frequency response range of 80-20,000Hz, enough to support the receiver.
The speakers of this receiver unit are designed to handle wired connectivity; however, if you prefer wireless connectivity, you can utilize NFC-enabled devices and Bluetooth.
Thus, you can easily stream your music from tablets, smartphones, or even laptops. Onkyo added a lot of innovation to this system by including the NFC features on their receiver.
Unfortunately, though, the Bluetooth used on this system is the 4.0 version – an outdated version compared to the 4.2 found in many modern devices.
Nevertheless, the connection is strong enough to stream your music from up to a distance of 10 meters range.
Onkyo CS-265 can support a 2-mode Super Bass Function, an essential feature for many audiophiles.
You can expect to get three playback modes (profiles) for CD- random, normal, and repeat, as well as three repeat modes for the CD – track, 1-folder, and Disc.
If you are the kind of person that does not like manual control and monitoring of the music, Onkyo offers a remote control included in the package.
You can comfortably change the connections, mode, adjust the tone, volume, and control monitoring on the systems display screen.
You can use the remote for playback controls and source selection as well. Its design may appear unappealing, but it is swift and precise.
Pros
It offers a variety of features worth the price.
Many connection options.
Satisfactory soundstage.
Nice ergonomics.
Great value for its price.
Cons
Outdated Bluetooth Version 4.0
2. Yamaha MCR-B020BL
The Yamaha Corporation is no stranger to the audio market. This brand is a common household name known for its good quality, high-end amplifiers, and standalone speakers.
One of their best models yet, the Yamaha MCR-B020BL Micro Component System, is a compact home theater system with a lot to offer.
This system is one of the most affordable systems in the market. Unlike other brands like Bose, who customize their audio systems for the high-end audio market, Yamaha offers this system at the price of $200, affordable to middle and low-income earners.
In addition, it provides a wide range of music source options for a low-budget system that makes it worth the price.
The MCR-B020BL Micro Component System features three main components – two standalone speakers and one central unit, which are relatively easy to set up.
Each of the speakers measures 5.6 x 4.8 x 10.2 inches and weighs close to three pounds, while the primary unit measures 5.6 x 7.1 x 11 inches and weighs almost four pounds. At about 10 pounds total, the system is quite bulky.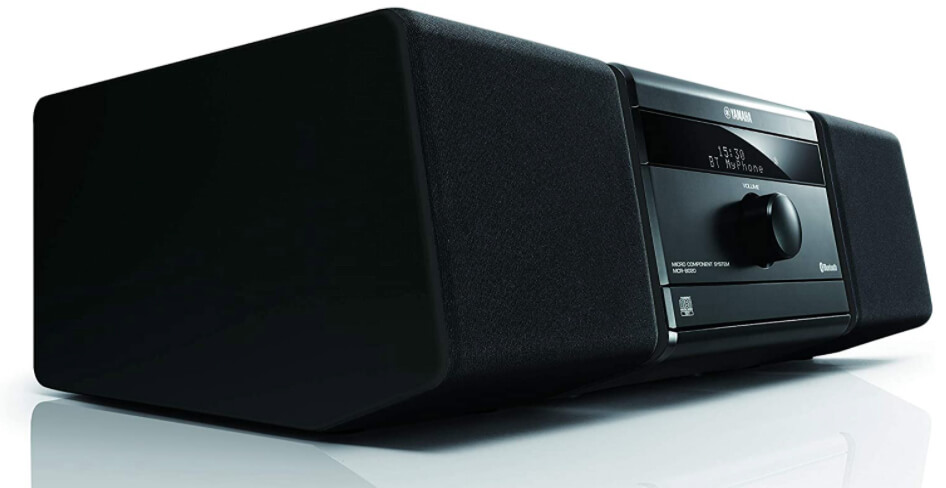 All the systems controls are located on the center unit, including a 3.5 mm headphone jack, a USB charging port, and a CD tray. On the front of the system is the LCD, which displays system information and the time.
The USB charging port and headphone jack are both located on the top of the center unit.
Unfortunately, this is a poor design choice because the channel cables tend to stick up in the air when plugged in.
The AM/FM radio antennas are also located at the back of the central unit. Unfortunately, they have no aesthetic appeal and stick out in the open like a sore thumb.
This model also offers many connectivity options. Irrespective of your music source, everything is effortless to set up and running.
It offers Bluetooth connectivity for music streaming, which works great with windows, iOS, Android, and Mac devices.
You can even connect the system with Chromebook to watch your favorite shows on Netflix (you may have to get a device with ChromeOS).
The only downside to this is that it does not stay connected for a long while playing via Bluetooth.
If they were to award prices for best audio quality, The Yamaha MCR-B020BL model might not get one (probably because they use cheap components).
Still, it does deliver quality audio with minimal distortions at high volume. Many people are skeptical about the audio quality of this model because of its low price.
Still, Yamaha proved the doubters and mockers wrong by creating a system that has a decent quality at the low-end estimate. It even has a bonus of angling or placing the speakers at whatever position that one sees fit.
Pros
Good audio quality with heavy bass
Great Bluetooth connectivity
Speakers are separate from the center unit (standalone)
Simple and Compact design
Cons
Wired speakers
Could improve on the quality and positioning of the Antennas
3. Yamaha RX-V385 5.1-Channel 4K Ultra HD AV Receiver with Bluetooth
If you are in the market for an affordable home theater system, look no further than Yamaha's budget-friendly RX-V385 5.1 channel system.
With five channels that are easy to set up, this receiver can offer you a reliable sound performance in whatever living space you have, whether a small apartment or a large living room.
This affordable receiver even works with the latest 4K ultra HD quality television sets and Blu-ray players to provide the user with impressive picture quality.
The inbuilt Bluetooth feature also allows one to stream podcasts and music from several compatible mobile devices.
Like many Yamaha designs, the RX-V385 receiver also features an appealing glossy finish on the upper half of the front side, with a brushed metal aluminum finish to give the unit a more premium look.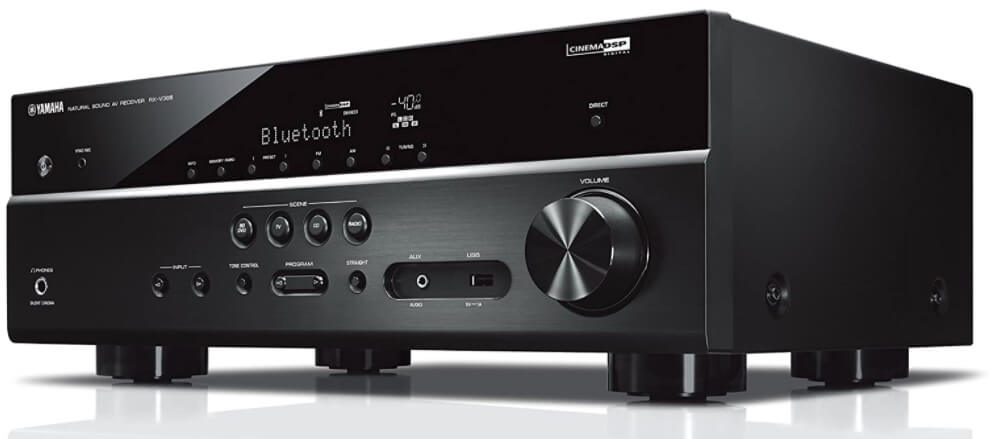 The top half houses the central display, which shows all the receiver's functions. The far-right has a small circular button for Direct, while on the left, you can find the YPAO microphone port and a power button.
Since the RX-V385 model belongs to the lower end of the performance ladder, its size is relatively smaller when compared to other full-sized home theater units.
This makes it an ideal choice because space is a limiting factor when purchasing a new system. It weighs 17.0 lbs and measures 17-1/8″ x 6-3/8″ x 12-3/8″ making it a good option for small-scale unit setups.
This Yamaha model only supports the most basic surround setup. A 5.1 channel receiver, the different types of configurations that it can support are naturally limited.
You can choose either a .1 or 2.1 channel setup. It also does not have the Dolby Atmos or DTS: X support, which is a limited surround setup, considering many entry-level 5.1 units have such a feature.
This receiver may not be the most powerful model from Yamaha, but it packs plenty of juice to cater to small or medium-sized media areas and living rooms.
It has 70 watts per channel at (8 ohms, 20 Hz – 20 kHz, 0.09% 2ch drive. You can also bi-amp the front channels to get better sound quality from this unit.
Pros
HDCP 2.2 technology for compatibility with 4KUltra HD sources and TVs
YPAO microphone (Yamaha Parametric Room Acoustic Optimizer) for automatic speaker calibration and more precise surround audio
5- channel amplifier at a low price
Cons
No phono input for turntables
Could improve on the quality and positioning of the Antennas
4. Yamaha RX-V485 5.1-Channel AV Receiver with Music Cast
Yamaha has always prided itself on creating good quality receivers that pack a lot of value. Many people consider it the best stereo receiver in the market.
Sale
Featuring 5.1 channels of surround sound and full support for 4K Ultra HD quality video and several high-resolution audio formats via the front panel USB port, the RX-V485 model is no exception.
This affordable Av receiver also offers the wireless rear speaker option via MusicCast systems and multi-room streaming at the price of $399 from Amazon.
Are you a fan of wireless surround sound? Do you like receivers with easy setups? If yes, then you can reduce the wires in your life if you get the RX-V485 receiver.
For example, with MusicCast50 or MusicCast 20 wireless music streaming speakers, this Av receiver can connect them as wireless surround speakers in a five-channel home theater with the typical wired front and center channel speakers.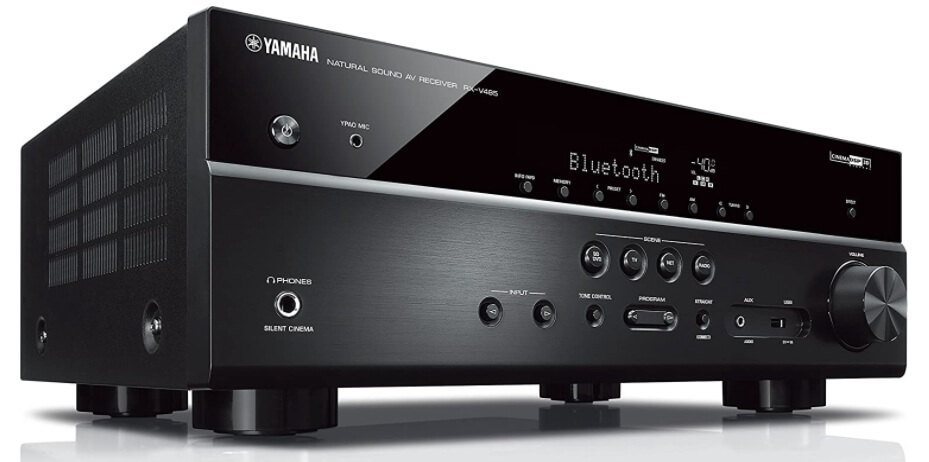 This technology from Yamaha makes it easier to set up a wireless system for your whole home.
With the free MusicCast Controller app, you get to access your personal media collection, streaming services, and internet radio and control what is playing in the different rooms in your house via the home theater.
This Av receiver also packs a variety of wireless listening options. With built-in streaming services like TIDAL, Pandora, and Spotify, you can play and control your favorite podcasts directly via the receiver.
It also caters to iOS compatible devices with Apple Airplay and built-in Bluetooth, which adds to even more flexibility in streaming services.
The RX-V485 Av receiver also offers Alexa integration. This integration allows one to communicate with a device, and you can ask when you want to perform actions such as turn the receiver on or off, play media files, or control the volume.
Alexa can even help you link or unlink rooms in the multi-room MusicCast configuration for a beautiful listening experience.
Pros
Multiroom audio setup and the ability to pair with wireless rear speakers add playback flexibility.
High-quality audio output at an affordable price·
Dolby® and DTS® for easy surround sound decoding·
Can upgrade HD video signals to 4K Ultra HD.
The price is worth the value.
Cons
Has only four HDMI ports.
The home theater is not compatible with Google Chromecast or Dolby Atmos.
5. Denon D-M41DAB
If you are looking to better your audio listening experience, but space is a limiting factor, you should get Denon's D-M41DAB.
Perhaps one of the best two-channel stereo receivers can offer you great sound regardless of the size of your room, be it in the office, dorm, or bedroom.
This all-in-one desktop audio receiver delivers loud and detailed audio via its compact speakers.
You can stream your media from a smartphone via Bluetooth, listen to AM/FM radio, or even play CDs. The M41DAB audio receiver is considered very versatile.
It features a high-performance headphone amp to enjoy vibrant and dynamic sound when you are in public or do not want to bother anyone in your immediate surroundings.
If you are a cinema enthusiast, you can also connect your Blu-ray player or 4K ultra HD TV to the receiver's optical input for high-quality sound for both movies and TV shows.
Again, Denon made sure they catered to audiophiles by including a subwoofer output with the receiver so that they can enjoy low-frequency sound effects. The receiver also allows one to round out the low end of your media files.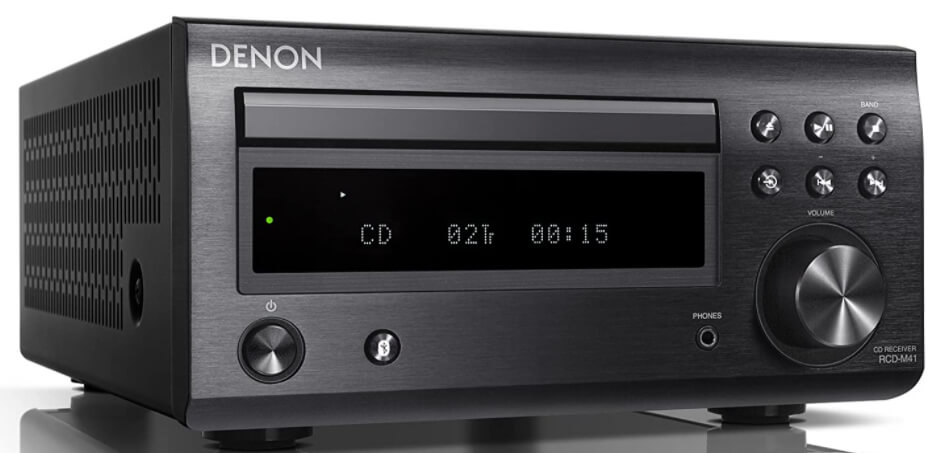 At first glance, this audio receiver might look simple and bland on the outside, but things get more complicated inside the unit.
The engineers of this unit made sure they went through the unit's circuitry to eliminate the many potential sources of sound distortion.
As a result, it features shortened signal paths and simplified wiring divided into digital and analog circuits for the receiver to produce the purest and cleanest sound.
Denon might not have added networked audio devices with multiroom capabilities or in-built streaming services, or Wi-Fi on the M41DAB receiver; however, they have added Bluetooth services.
It may not sound like a huge deal, especially for a product line that has always focused on physical connections, but it is a noteworthy achievement. The Bluetooth element lets you stream media from Spotify or Tidal directly from your smartphone.
Pros
Amazing sound quality at an affordable price.
Requires minimal space and easy to setup.
Great connectivity.
Cons
At such a price, there are no cons.
6. Denon CEOL RCD-N10
One defining feature of this receiver is that it offers plenty of options to listen to your audio files.
Sale
A very compact and versatile modern home theater receiver, the Denon CEOL RCD-N10 offers one with easy access to media files in several ways.
You can always use the traditional built-In CD or AM/FM tuner for your entertainment.
Alternatively, you can also use modern methods such as connecting to a home or office network via an Ethernet Port or Wi-Fi to stream media.
In addition, you can connect to Deezer, TIDAL, Spotify, or TuneIn internet radio for your favorite music or podcasts.
The receiver also offers Bluetooth wireless streaming and Apple AirPlay 2 options for those with iOS compatible devices.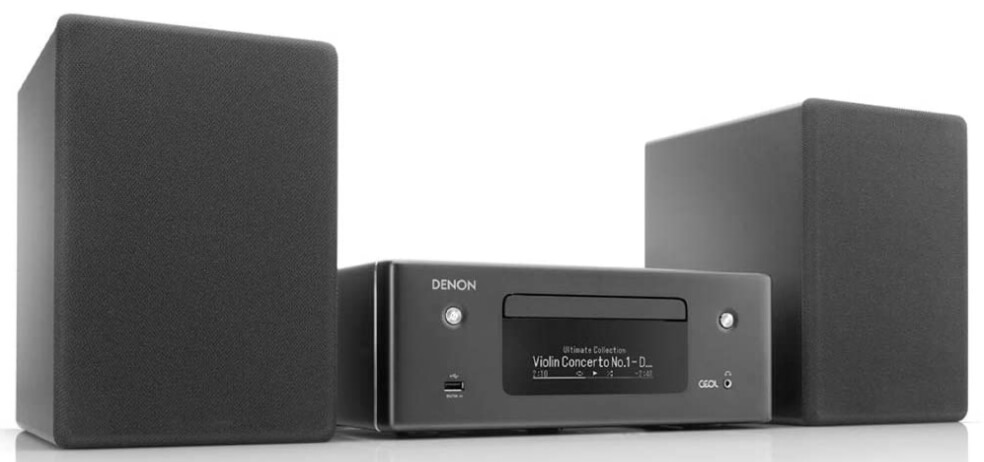 Suppose you happen to be the kind of person that prefers giving audio commands to control the receiver for specific actions.
In that case, you will enjoy the additional Amazon Echo Plus, Google Home, and Echo Dot features.
You can just speak up, and the microphone will take your request to either switch inputs, adjust the volume, play a specific tune, radio station, or saved a playlist.
For more effortless voice control, you can get the HEOS Home Entertainment Skill app and give your requests to Amazon's Alexa.
Pros
Offers HEOS technology to wirelessly connects compatible components for Whole-home audio.
Compatible with voice control via Google Assistant or Amazon Alexa.
Ethernet port for connecting to the home network.
7. Sony Micro Hi-Fi Stereo Sound System
If you are looking for the old-school classy bookshelf receiver unit, you should find the Sony Micro Hi-Fi Stereo Sound System.
Considered a bridge between old and new technology, this small receiver is easy to set up, offers excellent sound quality, and a variety of features.
The main components of this Sony receiver are about 8 inches deep and 11 inches wide, and the two separate speakers are 6 inches wide and 9 inches tall.
The unit also has removable fabric grills attached about 8 inches deep. This makes the unit very small and compact, great for dealing with a limited amount of space.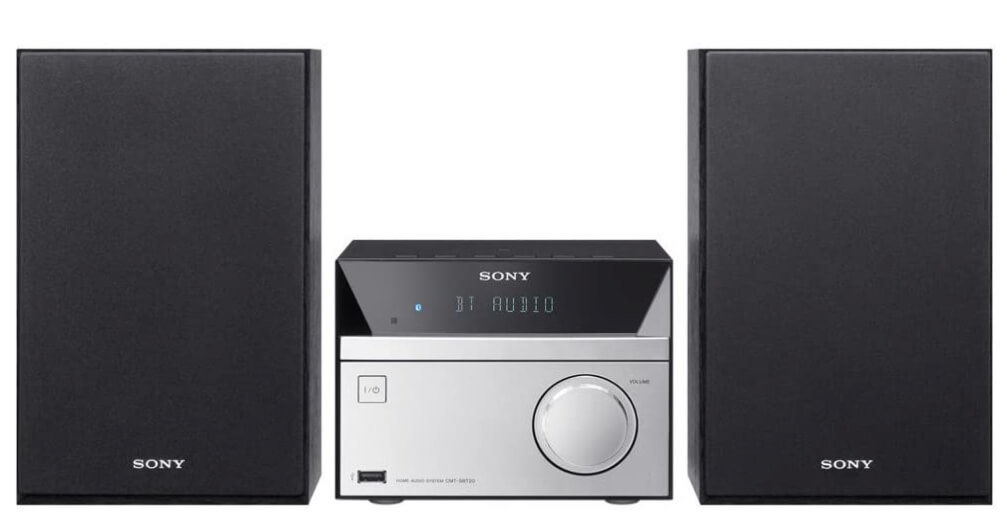 The Sony Micro Hi-Fi Stereo System offers excellent sound output across all audio inputs. The receiver's volume can go from 0-31.
If the unit volume is set at nine or lower, the sound output is barely audible, while adding the volume to level 31 makes the sound quite loud, though not room shaking- ideal for an office setting. Even at maximum volume, this unit has no distortions whatsoever.
Pros
Classic bookshelf receiver design·
Great sound Output·
USB, NFC, and Bluetooth connectivity·
CD and AM/FM legacy support.
Cons
The LED segment displays limited information.
8. Sharp XL-HF102B Hi-Fi Component System
If you are in the market for a simple yet functional and affordable stereo receiver, you should get Sharps XL-HF102B Hi-Fi Component System.
Sale
This small receiver is made up of three components. The main control unit and two speakers.
The unit comprises AM/FM tuners, a built-in CD player, a two-channel configuration, and remote control.
This unit has excellent sound quality with a sound output of 50 watts total power from the two-way speakers (25 watts per channel).
Equipped with X-Bass for bass boost, you can listen to all your favorite tunes with that massive and deep bass.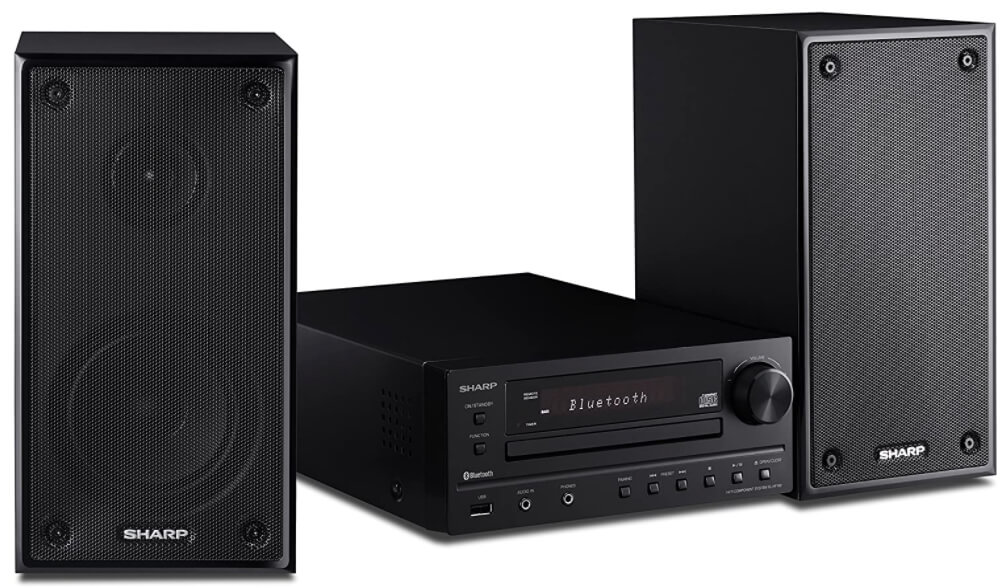 The XL-HF102B model also offers Bluetooth audio streaming services. You can play or stream music from your favorite podcasts straight from your Android or Apple compatible tablet or smartphone.
The system is also equipped with a USB input for you to play media files from a thumb drive or a wired Android device.
The USB Inputs supports MP3 and WMA playback, which are programmable. You can also check on system information or control your media via an LCD screen with dimmer control. It may not be an ultra HD display, but the monochrome display serves its purpose.
Pros
Very affordable.
Small and compact design that's easy to setup·
Offers Bass boost with X-Bass.
Cons
The reverse and forward search are not progressive on a CD player – one speed only, about 10x.
Choosing the Best Stereo System – Buyer's Guide
Size
When it comes to purchasing a receiver for stereo, size does matter. You maybe want to install a new receiver in your home, but the space is limited.
This is when you go for a small and compact stereo receiver. You should, however, keep in mind that the smaller the receivers' stereo, the more inferior the overall audio quality would be. Larger speakers are usually designed to produce more bass with better quality and detail.
Features
Another significant factor you should consider in your receiver or home theater system is the system features.
You have to be honest with yourself about the type of receiver you need.
Do you want something simple and functional? Or do you need a system that is more advanced with a myriad of features?
For example, modern radio systems can now connect to a Wi-Fi network, meaning that they can seamlessly integrate with system assistants like Alexa for you to stream your favorite media.
Alternatively, you may be looking for a more traditional system to play your CDs or listen to tuner stations. In such a case, getting a receiver with additional features would be a total waste of your resources.
Sound
We all want the best audio quality from our receiver system and one that can fit into our budget.
If you are unsure about how your system should sound like, you can end up spending more money as you sample different products.
When purchasing a system based on found quality, you have to consider the types of media files you will be using on your receiver.
Many consumers tend to judge the quality of sound based on the bass. Movie fans prefer massive bass output to emphasize action scenes, while some music lovers prefer moderate bass in their system.
Whichever the preference, poor balancing could lead to the bass drowning out the more subtle sounds. Heavy bass also tends to strip away mid-range speakers as well.
This can be an issue, especially for the people who prefer the layered type of music, such as classical collections.
Therefore, it is better if you get a system that can configure your home's sound setup. You should also check on the power output of the system, usually measured in watts. The higher the value of watts RMS or Peak, the more powerful a receiver will be.
Inputs & Outputs
Today, many people opt to stream their favorite music through wireless features such as Bluetooth. However, according to audio experts, you get better audio quality from the AUX input.
If you do not need to use your phone while listening to music, you should consider connecting via the auxiliary cable.
Many home stereos use an RCA cable or an RCA or ⅛-inch AUX input to connect to mobile devices.
To connect to external devices or speakers, you will have to get a digital or line output. They may not be common, but some receiver units offer such a feature.
Final Thoughts
Modern units come equipped with capabilities and features that did not exist in previous models.
As such, you must do extensive research on the various models available in the market before making a purchase decision.
Remember, having a great receiver does not mean spending a fortune. You only need to get the necessary information, such as the factors mentioned above, that you need to consider before purchasing one.
Suppose you are in the market for a stereo receiver unit that is ultra-compact, affordable, and can retain a high-level quality sound output.
In that case, the eight units, as mentioned above, will not disappoint. So when you go shopping for a small/compact receiver, be sure to get one whose value is worth the price.