The Alpine iLX W650 is a short-chassis car multimedia console that measures 7 inches wide, 4 inches high, and 2 inches deep. The distinct advantage of this short chassis design is that you can install a stereo amplifier behind the W650.
The manufacturer, Alpine, even provides a power bracket to firmly attach the iLX-650 digital car console to the recommended 4-channel KTA 450 amplifier. In this review, we also look at how the KTA 450 helps you realize outstanding car audio performance.
Review At A Glance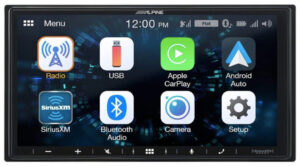 Product Name: Alpine iLX-W650
Product Description: It is a 7-inch touchscreen based digital media receiver that comes with a sturdy structure that fits beautifully inside your car. You'll get all the basic and advanced features like AM/FM tuner, integration with Apple CarPlay and Android Auto, USB input and compatibility with factory steering controls and media buttons.
Summary
The Alpine iLX-W650 is a remarkable and top-rated stereo receiver by Alpine. Though the price is a little above an average digital media receiver, the iLX-W650 is a future proof choice.
It is easy to install, comes with a ton of amazing features and blends well with the interiors of your car.
Features

Ease of Use

Built Quality

Sound Experience

Price
Pros
Touchscreen control with a large 7-inch display.
Compatible with Apple CarPlay and Android Auto.
A clean interface. The UI is easy to use and navigate across multiple features. 
AM/FM Tuner.
You can use it with a USB drive.
Includes an external microphone. 
Cons
The price tag is more than a normal budget stereo receiver. 
Unboxing the Alpine iLX-W650 Audio/Video Receiver
When you buy this digital media receiver from Amazon or a physical store, you get a white box with the blue Alpine logo on top. To ensure your system works perfectly, you must ensure your package contains everything.
The largest item in the box is a plastic-wrapped multimedia console in a shock-proof bubble pack. The other items in the package are: –
A Quick Start Guide
The Quick Start Guide provides simplified instructions on how to install and use the different features on your double din car console, including android auto, apple car play, backup camera, and several others.
An Owner's Card
Blue in color, the digital radio owner's card features a scannable QR code. Scanning this code with your smartphone takes you to a more detailed e-manual for the car console.
Black USB 'A' Cable
This cable connects to a USB port at the back of the media receiver. At 42 inches in length, the USB cable allows you to connect devices and flash storage to the multimedia console directly.
Speaker Wires
Speaker wires, in many head units, come in four standard colors, i.e., two purple wires for the rear passenger speaker, two green wires for the rear driver-side speaker, two white wires for the front driver-side speaker, and two grey wires for the front passenger speaker. In this review, we look at how you can combine speaker outputs to get a larger output suitable for use with sub-woofers.
Feature-Specific Wires
You also find various multi-colored feature-specific wires used with this digital media receiver. These wires include: –
Blue/white wire for Amplifier Turn-on Control
This wire connects to the on/off circuit of your stereo amplifier, allowing you to activate and deactivate the amp via the user interface.
Blue wire for Amplified or Power-Antenna Connection
This wire connects to your car's antenna allowing the radio console to receive transmissions from free-to-air radio stations.
Long orange/white wire for Reverse-Trigger and Rear-Camera Activation
Connecting this wire to your rear tail lights allows the radio console to begin relaying a live video feed from your rear camera whenever you reverse your vehicle.
Long Yellow/blue wire for Emergency Brake Trigger
The emergency brake trigger, which also connects to your car's rear lights, ensures your console to relay video footage of oncoming vehicles from your backup camera when you brake suddenly. This review looks at how the rear camera input feature on your car stereo system ensures you remain safe after suddenly applying the parking brake. Thus, pls make sure that you connect to the parking brake signal.
Red Accessory Wire
This wire is always connected to the 12volt DC positive power supply of your car battery. It ensures the W650 media receiver does not lose critical memory functions when you switch off your car. Critical memory functions include the clock, equalizer presets, and customizable settings on android auto, apple car play, and other apps on this digital media receiver.
Yellow Power Wire with cut-out fuse
This wire also connects to the 12volt positive power supply of your car's battery and powers the multimedia console during regular use. However, this power wire only has voltage when you turn on your car's ignition. The fuse on the power wire protects your double din iLX-W650 from current fluctuations that sometimes accompany engine ignition.
Black Power Cable
This wire connects to the 12-volt negative power supply from your car's battery, which allows the connection of the black ground wire from your iLX-W650 media receiver to any point on your car's metal chassis.
Dashboard Microphone
The dashboard microphone is at the end of a long black wire that then connects to the Alpine digital car radio via an ordinary audio jack.
Mounting this microphone on your dashboard via its black metal brace, enables you to use voice-command control with the W650 digital media receiver.
Pre-Amp Output and Camera Input
Alpine combines the pre-amp outputs and front/rear camera input cables into one connector, with staggered RCA jacks for easy connection to the amplifier and cameras. The front/rear speaker output wires are most extended and use a pair of red and white RCA jacks for the right/left speaker channels.
The sub-woofer outputs on the digital media console are shorter wires with dual white RCA jacks. The pair of black and yellow front/rear camera input wires are shortest and use matching yellow and black RCA jacks.
The use of combined camera input and pre-amp cable is a favorable review aspect of this car stereo system.
More on the External Appearance
On removing the multimedia console from its bubble package and unwrapping the protective plastic, you immediately notice distinct exterior features that make the iLX-W650 a unique digital media receiver in any review. Notable attributes on the Alpine W650 include: –
7-inch Touchscreen Panel
The stunning and glossy double din front of this digital media console features a 7-inch capacitive touchscreen as the primary input and output component.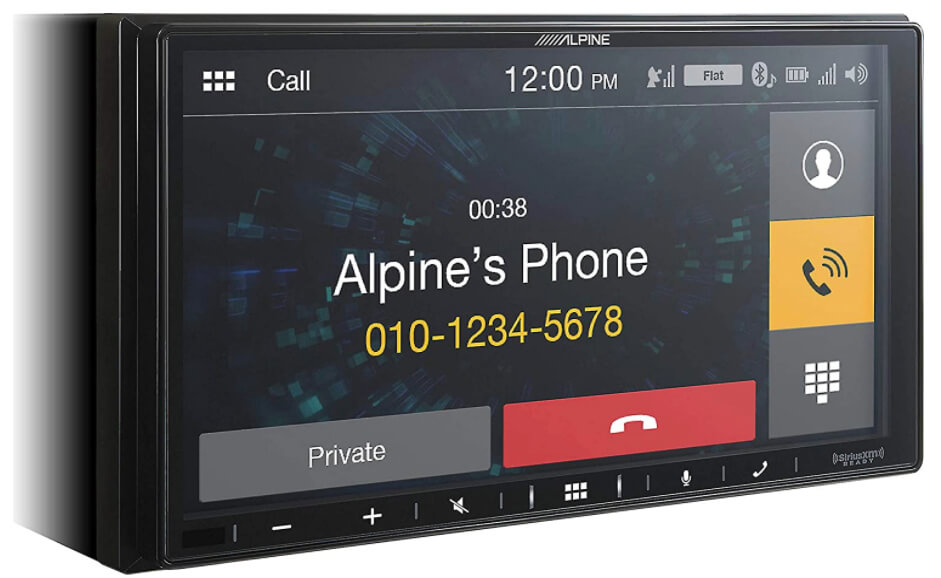 On the W650, the touch screen projects outwards for two reasons. First, the raised touch display makes this system a notable visual aspect of your car's interior and a favorite in any review.
Second, the raised double din touchscreen display adds a greater sense of depth to images and videos playing on the device. Other notable touchscreen-related benefits you can expect after installing the system in your car include: –
Impeccably High Display Clarity
With a screen resolution comparable to many high-end smartphones, the 7-inch display on the iLX-W650 produces images with clearly defined margins, perfect light balance, and life-like colors. The digital media receiver is suited for use with HD photos and videos, in addition to enhancing the aesthetic appeal to your car's dashboard.
Versatile Touch Control
The touch screen allows you to control functions on your digital media receiver with simple tap and swipe gestures. The capacitive screen has the multi-touch capability, enabling you to zoom, rotate, and edit images using pinch, turn, and span gestures.
Long Service Life
Like smartphone screens, the touch display on the iLX W650 is made using scratch-resistant glass. Consequently, the multi-layered glass screen has an impeccably long service life.
Stainless Steel Housing
Dedicated multi-core processing, flash storage, and advanced cross-platform data interfaces make this a versatile digital media receiver. To protect the complex circuitry of this car stereo, Alpine has encased this digital multimedia console in perforated stainless steel.
The holes allow airflow within the unit, which keeps electronic components from overheating. Furthermore, the thick stainless steel back-plate acts as a large heat sink for this six-channel pre-amplifier.
User Interface
The stunning graphic user interface on the digital radio gives this media console considerable clout in any review. The W650 has a user-centric design making this car radio console remarkably easy to use. You access the vast array of multimedia functions available this system from a simple home screen menu.
The Home Screen
When you boot up the Alpine iLX-W650, the radio menu is the first sub-menu to appear on the device's 7-inch touchscreen display. To bring up the main menu, you simply tap the two by three grid icon at the center of the bottom bezel of the screen.
The home screen menu presents you with eight icons that represent eight different sub-menus. The sub-menus on the W650 include: –
● Radio icon: a radio wave transmission tower
● USB Connect icon: a red thumb drive
● iPod icon: proprietary iPod logo
● Connectivity icon: an image of a smartphone
● Sirius XM icon: Alpi proprietary SiriusXM logo
● Bluetooth icon: the standard symbol for Bluetooth connectivity
● Camera icon: standard camera symbol
● Setup icon: standard gear symbol for setup menus
Tapping a particular icon takes you to the respective sub-menu. Furthermore, the USB, iPod, Connectivity, SiriusXM, Bluetooth, and camera icons are inactive until you enable their use on your digital receiver.
You do so by connecting your smartphone, flash drive, front/rear cameras, SiriusXM tuner, and iPod player to the car media console.
When you enable all the functions on your W650, the following icons appear at the top margin of the screen. Left to right, the icons are: –
● Main menu two by three grid
● Digital Clock
● Satellite Signal indicator: when you connect a SiriusXM satellite tuner to your W650 digital receiver
● Equalizer Preset indicator: while playing audio
● Bluetooth icon: when you connect devices to hour iLX via Bluetooth
● Phone Battery level Indicator: when you connect your phone to the iLX-W650
● Network Signal Strength Indicator: also when you connect your phone
● Audio Profile indicator
AM/FM Tuner
Tapping the radio tower icon on the home menu takes you to the radio sub-menu. The radio, an important review factor for most people, has a band selector that allows you to switch between different radio frequency bands.
Labeled as FM1, FM2, FM3, and AM, the four tabs on the band selector enables you to scan for your favorite free-to-air radio stations within the 63 Hz- 108 MHz FM frequency range and the 535Hz-1605 kHz AM frequency range.
However, you must connect the power antenna wire of your digital receiver to your car's antenna to use the radio feature on the digital media console.
Scanning and Saving Free-to-Air Radio Stations
The easiest way to look for free-to-air radio stations on both FM and AM frequency bands is to initiate a full scan. You do this by tapping the 'F. SCAN' tab located on the lower half of the screen. The iLX radio then embarks on a progressive scan across the four frequency band.
Once the scan is complete, you then tap the 'A. MEMO' tab to set presets for the six most reliable radio stations in the F1, F2, F3, and AM frequency bands. A full scan on the W650 car stereo rarely exceeds a full minute from commencement. A feat often left out in reviews of this versatile
The 'P.SCAN' tab allows you to scan for your favorite radio station from a list of presets that your digital stereo has already memorized.
Each preset station plays for five minutes, to give you ample time to make your pick. You also have the option of searching for radio stations within a single frequency band by using the forward and reverse icons at the bottom left of the radio screen.
You control the volume of your system by swiping up or down across the screen. Indeed, the radio in the iLX receiver is why most customer reviews favor this digital media receiver.
Multi-Device Bluetooth Connectivity
You can connect up to 5 devices to the your car media console, regardless of whether they use android, iOS or other operating systems.
To do this, enable Bluetooth on your iLX-W650 radio console and initiate a scan for Bluetooth devices near the unit. Then turn on the Bluetooth on your phone, laptop, tablet, or other Bluetooth-capable device and ensure it is discoverable.
Once your Bluetooth ID appears on the list of nearby devices, tap on the ID to initiate pairing. Make sure the pairing code generated on the W650 and your device match before allowing the two devices to pair.
Apart from your phone, you can connect Bluetooth-capable speakers, cameras, or other devices to your system. It is easy to enable Bluetooth from the factory steering wheel of many recent car models.
Voice-Command Control
You need to connect a dash-mounted microphone to the Alpine iLX-W650 before you can use the voice command feature available on this multimedia car stereo. Once installed, the dashboard microphone allows you to execute various tasks on the iLX using your voice.
Many of these voice command functions require you to connect your android or iOS smartphone to your Alpine digital car radio. When you connect your phone, Alpine's voice-command feature seamlessly links with the voice-assistant on your device.
In this manner, you can make and receive phone calls, voice-type and send text messages, make navigation inquiries, check for weather updates, and so forth. To activate voice command on your Alpine receiver, press and hold the microphone icon on your steering wheel.
Voice Command capability, a significant review attribute, ensures optimal user experience when you use android auto or Apple CarPlay. This feature allows you use either Google Assistant or Siri for hands-free control of your Alpine iLX-W650.
Apple CarPlay and Android Auto Compatibility
The Alpine iLX-W650 head unit is compatible with both Apple CarPlay and Android Auto.
The platform you use in your car depends on whether you connect an Android or iOS device to the iLX. To connect an iPhone to your iLX-W650, you need an Apple lightning cable compatible with the iLX USB port.
Simply attach the lightning cable to your iOS phone, connect it to the USB cable of your stereo, and click on the connectivity icon on the iLX home screen.
Your Alpine car radio should immediately recognize your device and promptly replace the connectivity icon with the Apple CarPlay logo.
Connecting your android smartphone to your system is a dual procedure requiring the use of both a USB port and Bluetooth connectivity features. Therefore, you need a USB compatible cable to connect your android phone to your iLX head unit physically.
As with an iPhone, your Alpine digital car radio should immediately recognize your device and replace the connectivity icon on the iLX home screen with the Android Auto logo.
However, you also need to link the two devices via Bluetooth before accessing data-intensive functions on Android Auto, such as voice-typing.
When your android or iOS smartphone is connected to your Alpine car stereo, you gain access to music, videos and other multimedia stored on the device.
Using the stereo, you can also make and receive phone calls, use Google Maps and Waze to for seamless navigation, listen to audiobooks and even check for the latest weather updates, using either Apple CarPlay or Android Auto.
GPS Navigation
To access GPS navigation capability on your system requires you to connect a GPS-enabled device to the iLX head unit.
By connecting your Android or iOS phone to the iLX multimedia head unit, you enable data connectivity allowing for real-time GPS navigation. Without a fast internet connection, navigation features on Android Auto and Apple CarPlay are "glitchy" and unreliable.
USB Connectivity
The USB cable allows you to connect your iOS or Android smartphone to your Alpine iLX-w650 head unit, thereby enabling connectivity related features, including real-time navigation, phone calls, and messaging.
You can also connect thumb drives to the iLX car stereo to access multimedia files stored on these flash storage devices.
Multimedia Play Capability
The stereo is compatible with FLAC or Free Lossless Audio Codec. You can, therefore, convert your mp3 files into smaller FLAC files and play them on the iLX-W650 seamlessly.
In addition to audio files, you can watch downloaded videos, stream live video, and listen to live podcasts on your Alpine digital media console.
Front/Rear Camera Support
When you buy this car stereo, you can watch live video feeds from the front and rear cameras you have installed in your car. To connect front/rear cameras to your iLX-W650, you simply hook them up to the front/rear camera cables at the back of your iLX head unit.
However, you need to connect the emergency brake trigger wire before accessing video functions on your system. This user safety feature, which includes video playback and video streaming, are locked out as long as your vehicle is in motion.
6 Channel Pre-Amplifier
The stereo uses a 12volt pre-amplifier with six-channel output for all your audio needs, i.e., two front speakers, two rear speakers, and two woofer outputs. The pre-amp on your iLX allows you to use a parametric equalizer to fine-tune the audio output of your speakers.
You also have the option of choosing from six equalizers presets stored within the iLX head unit, which is flat, jazz, rock, pop, and custom presets.
In addition to the 9-band parametric equalizer, this car stereo allows you to optimize cross-over gain across treble, midrange, and bass frequencies.
iPod Menu
Anyone who owns an iPod can connect it to this car stereo directly via a USB A compatible cable. When connected, tapping the iPod icon displays playlists of all the audio tracks stored on the device.
SiriusXM Satellite Radio
You need to connect a SiriusXM satellite tuner to your head unit before you can access satellite radio stations via the SiriusXM icon on the iLX car stereo home screen.
When connected via the SMB port at the back of your iLX head unit, the SiriusXM satellite tuner automatically links with the Alpine digital media console.
In this manner, you gain access to a plethora of free Pandora radio stations on the iLX unit installed in your car. You can play commercial-free music, listen to On-Demand radio episodes, and even create custom radio stations via the Pandora app, all from your car system.
Amplifier Options
If you prefer audio with rich bass and finely-tuned mid-range and treble, you have the option of installing the recommended KTA 45O four compact channel amplifier alongside your double din system.
The powerful KTA amplifier generates 50 watts of output for four 4 ohm speakers, i.e., two front speakers and two rear speakers. When bridged, the power output from the KTA 450 increases to 100 watts per speaker. The latter output is suitable for use with your sub-woofer to realize great sound in your car.
To ease the combo-installation of both the iLX car stereo and KTA power amplifier, the manufacturer provides Powerstack capability on the iLX W650 via a special Powerstack bracket.
The Powerstack bracket attaches the KTA amplifier to the back of the ILX head unit, converting the two independent devices into one integral unit. When connected in this manner, it becomes possible to install the combined unit into the same dashboard space in your car.
Conclusion
The Alpine iLX-W650 certainly has a lot to offer you if you are looking for an easy-to-use multimedia car console. At the basic user level, the iLX-W650 gives you access to a myriad of free-to-air radio stations operating in FM and AM frequency bands.
You significantly boost your access to multimedia content when you add a SiriusXM satellite tuner to your car stereo.
Furthermore, connecting your Android or iOS smartphone to your iLX opens up a wide array of features available on Apple CarPlay and Android Auto vehicle platforms. These features include real-time navigation, calling, texting, audio and video streaming, and seamless multimedia playback.
Finally, when you buy the Alpine iLX-W650 head unit, you get a device that can enhance your safety as a driver. By displaying live video feed from your car's rear camera, the iLX allows you to reverse without worrying about hitting vehicles, people, or obstacles lying behind your car confidently.
Indeed, this review presents little to hate about the iLX-W650 car stereo, from the stunning yet simple user interface to the innumerable functions available on this digital media head unit.
You should buy this digital media receiver if impeccable functionality and remarkable ease-of-use are critical factors in your final decision to buy a digital head unit for your car.
Note:
The images used in the post are taken from Amazon and stock photo sites.